By Lauren Vita Sgarlato, Contributing Reporter
RIO DE JANEIRO, BRAZIL – Parties, candies, costumes, pumpkins, ghosts, and goblins, oh the joys of Halloween. It is the one American holiday that really took on the world and in the U.S., some consider Halloween to be our form of Carnival. It may not be as big in Brazil, but there are still loads of activities planned for this Halloween weekend.
The American Society of Rio de Janeiro (AmSoc Rio) hosts an annual Monster Bash for all ages. This year they will team up with the U.S. Marine Corps. The event will be held at the Marine House in Jardim Pernambuco on Saturday, October 29th at 6PM. Just R$15 gains one entry, a free drink, and food to munch on.
"Early in the evening the children will get to experience trick or treating through the Marine House, and participate in games and other activities. Later in the evening, the adults will get to participate in best costume contests while enjoying music and drinks," explained Sgt. Jeffers of the U.S. Marine Corps.
It's no surprise that Shenanigan's will be hosting a "Halloweekend" of three parties, the biggest being on Thursday, October 27th beginning at 8PM. The R$20 entrance charge will be waived for anyone wearing a legitimate costume. There will be a best costume contest, along with their famous "half-pint" drink off (prizes included). Friday and Saturday the bar will return to its Irish/Brazilian self, except party-goers are encouraged to dress up for more prizes.
If you're looking to avoid a cover charge, Gringo Café will celebrate the festivities with a Happy Hour on Friday, October 28th. Drinks will be half-off from 8PM to 10PM. They even plan to have a special menu with deadly drinks, such as "Scary Sangria" and "Devil's Brew," and terrifying treats like "Mummy Pizza" and "Monster Eye Meatballs." Those that come dressed in spirit will receive a free caipirinha or beer.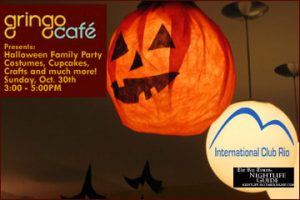 "Come and help us calm the gringo ghosts, who are haunting Ipanema and Gringo Café. Over a hundred years, these gringos came from all over the world to party, but they never left and they're not satisfied yet," says Gringo Café owner Sam Flowers about the event.
Saturday morning AmSoc Rio is at it again co-hosting a family party with the American School of Rio de Janeiro (EARJ), which is from noon to 4PM at Estrada da Gávea 132 in Gávea. There will be game booths with small fees with proceeds going to local charities.
On Sunday, the International Club of Rio de Janeiro (InC), along with Gringo Café, will be hosting a family trick-or-treat party in Ipanema. Complete with cupcakes, cookie crafts, and a costume party contest, this party will be from 3-5PM and is sure to satisfy the sweet tooth for kids and adults.
On the actual day of the holiday, October 31st, there's the option to head to American-owned Mexican restaurant Blue Agave in Ipanema at 9PM. It's another chance at winning more prizes for that great costume, and extending the weekend festivities.
For those not recycling last year's Halloween costume, don't panic, it's not impossible to find that perfect outfit. There are several costume shops, such as Clube de Fantasia in Copacabana, Imaginearte in Barra da Tijuca, and Atelie Mundo da Fantasia in Tijuca. Even some stalls at Uruguaiana Market are prepped with costumes at low costs.