By Saira Ansari, Contributing Reporter
RIO DE JANEIRO, BRAZIL – Situated in a little street in Tijuca is an under-construction building with a door made up of several nailed planks holding up the entrance gate. This humble structure is the site for the Tijuca Mosque – home of the Sociedade Beneficente Muculmana SBMRJ (Beneficent Muslim Society) – which was formed in 1951. The mosque is called Mesquita da Luz, which means the Mosque of Light.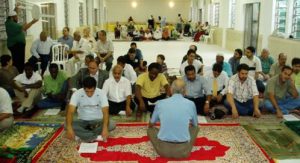 The mosque originally operated from a much smaller space that was located in Centro. It then moved to the Rio's Zona Norte (North Zone) to a much larger structure to accommodate the growing number of Muslims in attendance. According to the mosque representative there are about 500 Muslim families in Rio, comprised of immigrants as well as locals.
Islam first came to Brazil with the large number of African slaves that were brought in by the Portuguese – a number, some scholars argue, much higher than any Muslim-African slave trade in any other part of the Americas.
Today, the Muslims of Brazil are in a much better place, and like many cosmopolitan cities of the world, Rio is a multicultural hotspot where people of all nationalities, races, ethnicity and beliefs come together. What sets Rio among the warmest of cities is the way the Cariocas embrace this diversity with friendly heart.
In a city famed for its Carnival and skimpy beachwear it is remarkable to see how well they react to meeting with a Muslim. Many locals have expressed fascination and shown respect to this minority. Last year, the Centro Cultural Banco do Brasil CCBB also put up two major Islamic Art exhibits of local and international renowned Muslim artists.
The Mesquita da Luz mosque does not only serve as a  house of worship, it also doubles up as a community center and a place of learning and sharing. "It is like home", explains Tamara, a convert, while shuffling around to make sure everyone is comfortable and looked after.
In an average gathering of about fifty or so odd people on a Friday, there are people from Morocco, India, Pakistan, Egypt and many other countries. In the din of the chattering one can hear numerous languages being spoken, with Portuguese much more common, but English serves as the main cohesive language. 
One of the worshipers is a PhD student in Rio and has come a long way from his city in Pakistan.  He talks of his experience at the mosque and says, "It's been two years since I've been away from home and I have made many Brazilian friends. But I really missed my people and until I discovered this mosque I had felt very alone."
These days the mosque is very busy with Ramadan (also known as Ramazan), the month of fasting. In accordance with the lunar calendar followed by Muslims, Ramadan coincided with the present month of August.
In this month Muslims eat their fill until sunrise and then do not eat or drink anything until sunset. According to Rio timings this meant a complete fast from 5AM till 5:30 PM, approximately.
According to the lunar calendars laws, when the new moon is sighted, the month of Ramadan will officially end and Muslims across the world will celebrate Eid, a festive holiday occasion similar to Christmas.
Everybody will gather at the mosque and Eid prayers will be offered together at 7AM. Across the world, Muslims dressed in their finest clothes will then spend the entire day meeting friends and family, eating sweets and exchanging gifts.
The Muslims in Rio will also celebrate the festivities with their friends and family at the Mosque of Light. On behalf of the Muslim community of Rio, and The Rio Times, have a very happy Eid!