By Fiona Hurrell, Senior Contributing Reporter
RIO DE JANEIRO, BRAZIL – As 2012 draws to a close, Rio begins to prepare for its biggest event on the social calendar – the much anticipated Carnival. With not a moment to lose, samba schools across the city have chosen their Rainha da Bateria (Queen of the Drums) and embarked on fervent rehearsals in a quest to be crowned champion in February 2013.
Carnival schedules have now been confirmed, with the Grupo de Acesso (Access Group) parading on Friday, February 8th and Saturday, February 9th, while the first-class Grupo Especial (Special Group) will process on Sunday, February 10th and Monday, February 11th.
Traditionally, last year's Access Group winner, who will have automatically been promoted to the Special Group after Carnival 2012, will open the Special Group parade on Sunday.
The winner of the 2012 Access Group and leading school on Sunday's parade is Inocentes de Belford Roxo. The school won their right to special group status with the 2012 theme 'Corumbá – Ópera Tupi Guaikuru', which celebrated the voice of Brazil's people and its rich history.
The Special Group winner and champion of Carnival 2012 was Unidos da Tijuca, who sailed to victory with their Enredo (Theme) commemorating the life and works of esteemed Brazilian composer Louis Gonzaga. They fought off strong competition from runner up Beija Flor who continue to feature amongst the top scores in recent history, and were crowned champions of Carnival 2011.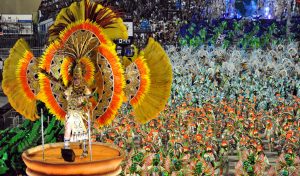 Last year's newest addition to the Special Group, Renascer de Jacarepaguá, was short lived after they were demoted back in to the Access Group for scoring the lowest in their category.
While nothing beats the thrill of watching the schools parade at the Sambodromo in full glory, there are those who may find that tickets are hard to come by or too expensive. Luckily, people can watch their favorite school's rehearse at the Sambodromo for free; ensuring that each and everyone has the opportunity of experiencing the Carnival parade magic.
Alternatively, those die hard fans who want a piece of the action now can experience their chosen samba school's rehearsals at the Quadras (School Halls) where the public are invited to samba with them and witness the spectacular moves of their professional dancers. Some of the schools are quite a distance away from Zona Sul (South Zone) however each one hosts weekly rehearsals starting at 10PM every Saturday (although most only get going after midnight).
Current Champion Unidos da Tijuca, is one of the closest, based in Tijuca in Zona Norte (North Zone). Rehearsals are usually on Saturdays and, early in the season, tickets are only R$10 entrance for males and free for females (the price goes up as the season goes on however). In addition, Mangueira and Salgueiro are relatively close and hold rehearsals every Saturday.
Every year people from all over the world visit the city for Carnival and anyone wishing to experience the action should start making travel plans soon. To purchase tickets, visit one of the Carnival authorized websites for details.