By Chesney Hearst, Senior Contributing Reporter
RIO DE JANEIRO, BRAZIL – Today, November 16th, organizers predict that one million people will take to the streets of Copacabana in Rio de Janeiro for the city's 19th Gay Pride Parade. The parade will start at 1PM at Posto 5 (close to Rua Sá Ferreira) with LGBT (Lesbian, Gay, Bisexual and Transgender) community members and supporters gathering together to make their way down Avenida Atlântica, parallel to the iconic shoreline, with floats, costumes and rainbows flags.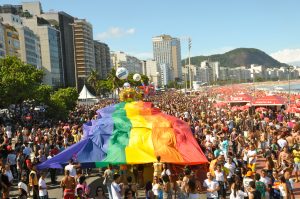 Organized by the NGOs, Groupo Arco-Íris and the Insituto Acro-Iris, the theme for this year's parade will be "A Million Voices."
"Rio still needs to evolve on the issue of homosexuals," president Groupo Arco-Íris, Almir França told O Globo. "So we do not give up our fight."
"With each passing year the number of people increases in the parade," Thales Fiorin of Mab's Restaurant and Bar, told The Rio Times.
The Copacabana beachfront establishment will be hosting a special celebration following the parade tonight with two for one drink specials on 130 different drinks from 7PM to 10PM. "Hopefully we will attract this audience who will be seeking a place to go after they finish the parade."
Fiorin also promises that the venue will be festively decorated with rainbow-colored balloons and flags. A drag queen will serve as house manager for the night and the DJ will play the best of Madonna, Beyoncé, Britney and more.
"People should stop at Mab's because there they will be very well received and know that we are a friendly restaurant and really respect this crowd," said Fiorin, adding, "We will always be with open arms! This will be a special day!"
In preparation for the parade, traffic was stopped between the roads of Francisco Otaviano and Miguel Lemos on the night of Saturday, November 15th and will remain closed there until 10PM tonight.
Additionally,the numbers of Guarda Municipal (Municipal Guards) also increased ten percent over the 2013 numbers, with a total of 244 guards expected to work two shifts during the parade.