By Ciara Long, Contributing Reporter
RIO DE JANEIRO, BRAZIL – Celebrating two years in operation, gourmet barbecue company Brasa BBQ will occupy the terrace in Rio's Museum of Modern Art (MAM) from 6PM on Saturday, January 28th. The event will have an open bar and will last until 2AM.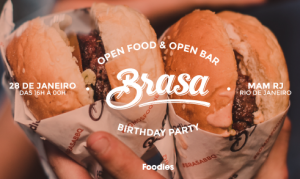 Visitors to the food company's birthday event will be able to choose from a range of Brasa's artisanal beef burgers with specially made buns from local bakery Boulangerie Carioca. Additionally there will be French fries from Rio-based chef of Frites, Fernando Modenesi and beef ribs from chef Ricardo Lapeyre among the food choices.
BBQ Brasa is the brainchild of a Carioca duo made up of chef Pedro Benoliel and entrepreneur Ronaldo Porto. The pair began making gourmet beef burgers two years ago, as well as sausage and bacon baps. Their burgers are often served with cured Minas cheese and the duo's signature condiments such as a spicy tomato and mint mayonnaise sauce.
Tickets to the event are available online via a link on the event's Facebook page, or from LIVO Eyewear in Shopping Leblon. Tickets purchased online will add a ten percent convenience fee to the overall cost, which is R$250 for women and R$270 for men.
Ticket-holders are advised that tickets cannot be exchanged, and that they will also need to present photo ID on arrival at the MAM.
What: Brasa BBQ 2 Anos
When: Saturday, January 28th, 6PM – 2AM.
Where: Museum of Modern Art, Av. Infante Dom Henrique, 85, Parque do Flamengo.
Entrance: R$250 – R$270. Visitors should present their tickets and ID on arrival.