By Georgia Grimond, Senior Contributing Reporter
RIO DE JANEIRO, BRAZIL – The weather may only just being starting to say "summer" but the shops are now stocking clothes for the months to come. Many smaller and independent brands are launching their summer collections today Saturday December 5th. Plus, with Christmas around the corner, Rio's pop-up shops, festivals and bazaars give locals and visitors alike the chance to pick up some more original presents.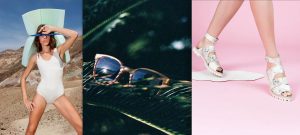 Frey Kalioubi, Rio's newest and most exciting boutique, is launching its summer collection this Saturday December 5th. The shop, on the second floor of a classic building in Praça Tiradentes, will feature beachwear brand 9klor from Lucia Koranyi, new sunglasses by local designers, Zerezes, who make them out of wood and summer shoes from Nuu.
New arrivals will be on sale alongside existing brands for both men and women such as Andrew de Freitas, Haight, Muggia and Luiza Marcier. Open from 4PM, the boutique will be serving chilled wine and ice cream from Sorvete Local with music courtesy of Berlin Community Radio.
Nearby, in Lapa, Bazar Poliphônico is hosting a small independent festival with music, beer, smoothies, pastries and coffee. New and second-hand clothes will be on sale as well as art, accessories and decorative items. Also in Centro, Fábrica Bhering, a former chocolate factory in Rio's port area which is now home to a clutch of small brands and artists' ateliers, is opening its doors for its monthly Circuito Interno (Internal Circuit). Expect live music and a selection of street-food vendors as well as the opportunity to buy directly from artists, designs and independent shops.
Belchior Brechó, which occupies a space on the ground floor of the old factory, sells hand-picked and well-presented second-hand clothes and accessories, many of which are from international labels like Gap and Abercrombie. They have a particularly good selection of vintage sunglasses.
In Zona Sul (South Zone) Lar will be popping-up at Casa Ipanema on Saturday from 2PM. It aims to bring together independent producers of food, drink, clothes, accessories and more to help promote and sell their products and disseminate their ideas.
Estudio Amor specializes in lettering, typography, calligraphy and illustration. Lu Forte is a visual artist who draws delicate pictures of animals and creatures, for both adults and kids. Knotty-Knots makes unique, chunky jewelry out of rope and cord. For bright and durable totes and shoppers, visit WMR Collective who will also be selling at Lar.
On the second floor of the house, Ipanema Closet will be open for business. Brands such as Lale, Self +, Handred and Amu have up to fifty percent off.
Marden's pop-up shop on Rua Maria Quitéria in Ipanema features the womenswear brand's new collection. With sophisticated lines and mature designs, its dresses are suitable for both Carioca days and glamorous nights.