By Matthew Elliott, Contributing Reporter
RIO DE JANEIRO, BRAZIL – Impressive figures from the city's Rock in Rio festival have shown the seven-day concert extravaganza was a huge success. Estimates from the Department of Tourism of Rio de Janeiro (RioTur) suggested an economic impact that surpassed R$1 billion.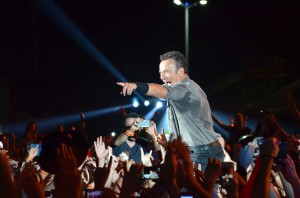 Over ninety hours of music spanning seven days saw an audience of 595,000 people attend over 160 musical attractions in the City of Rock, the future Olympic site in Barra da Tijuca.
Around ten million people followed the action on social networks, outperforming other major global festivals in this area. The official Rock in Rio website received 9.2 million page views. The site was most popular in Brazil, the United States, Portugal, Mexico and Chile.
Despite concerns over pricing, party-goers' thirst was quenched with 530,000 liters of beer, 420,000 bottles of water and 210,000 cups of soda. Their hunger was satiated with 48,000 pizzas, 280,000 burgers and a mammoth 9.7 tons of potatoes.
Meanwhile, the festival generated 183 tons of waste, much of which is recyclable and will be put to use for compost and fertilizer. Almost six thousand people received medical attention with 99 percent of cases being resolved on the spot. The key causes of medical problems at the festival were headaches, low blood pressure and dehydration.
Parallel activities in the City of Rock were also a huge hit with 95,700 people enjoying the Ferris wheel, roller coaster and climbing wall, among other attractions. The key draw, however, was the star-studded line-up, which saw international stars such as Beyoncé, Bruce Springsteen, Iron Maiden and Metallica take the stage.
The next edition of the festival, Rock in Rio 2015, is already being hotly anticipated, with over ten thousand people purchasing the Rock in Rio Club card for R$95. The card provides pre-sale rights for the next event and twenty percent discounts on official merchandise.
Read more (in Portuguese).
* The Rio Times Daily Updates feature is offered to help keep you up-to-date with important news as it happens.