By Chesney Hearst, Senior Contributing Reporter
RIO DE JANEIRO, BRAZIL – In just three weeks, Rock in Rio, one of the world's largest music festivals, returns for its fifth edition in the city where it was born. During the seven days of September 13th, 14th, 15th, 19th, 20th, 21st and 22nd, over one hundred acts representing various musical genres will entertain the crowds in Barra da Tijuca's Cidade do Rock (City of Rock).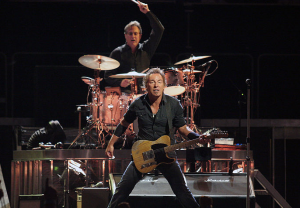 When the festival returned to Rio in 2011 after a ten year hiatus, over 700,000 fans were in attendance, with approximately 350,000 tourists traveling to Rio for the event, according to organizers.
This year, in an effort to make things more comfortable for attendees, the crowd size will be reduced from the maximum capacity of 100,000 people permitted per day to 85,000.
Tickets for the 2011 festival sold out within four days of when they went on sale with this year's tickets went even faster, selling out in four hours. Tickets for residents outside of Brazil remained available for months but are now also sold out.
This year's Rock in Rio shows will take place on five stages setup in the Cidade do Rock, one additional stage singe the 2011 festival, with the new stage set exclusively for street dance. "The scene of the Street Dance is something we've done this year in Madrid and Lisbon," Roberta Medina (daughter of event creator, Roberto Medina) told Terra in a 2012. "But it is the first time that Rock in Rio in Rio will have a stage dedicated to only dance."
On the Sunset Stage, acts will begin each day of the festival at 2:40 PM. Notable performers will include; English expatriate currently living in Rio, Jesuton with L.A. based American blues rock band Vintage Trouble; Brazilian Maria Rita with Belgian singer-songwriter Selah Sue; American punk band, The Offspring; special guests and late additions to the lineup, Saints of Valory; New Zealand recording artist Kimbra, Rob Zombie and American Ben Harper.
The World Stage, Palco Mundo in Portuguese, will host the main acts and headliners beginning each day of the festival at 5PM.
Opening day, Friday, September 13th, will start with a tribute to the late Cazuza, a famous Brazilian rock composer and singer followed by Ivete Sangalo, then DJ David Guetta and then headliner Beyoncé.
World Stage performers on Saturday, September 14th will be Capital Inicial, Thirty Second to Mars, Florence and the Machine and headliners Muse. Jota Quest will open the World Stage on Sunday, September 15th followed Jessie J, Alicia Keys and headliner Justin Timberlake.
The shows will start up again on Thursday, September 19th, after a three day break with the first of two metal days of the festival. Sepultura joined by Tambours Du Bronx will open the World Stage followed by Ghost B.C., Alice in Chains and then headliners and festival favorites Metallica.
On Friday, September 20th, Frejat will play first on the World Stage followed by Matchbox Twenty, Nickelback and headliner Bon Jovi. Brazilian band Skank will go first on the World Stage on Saturday, September 21st. With American Idol (Season 11) winner Phillip Phillips performing next before Singer-songwriter John Mayer and then the night's headliner Bruce Springsteen & The E Street Band.
For the final day and the second metal day of the festival on Saturday, September 21st, Kiara Rocks will open the World Stage followed by Slayer, then Avenged Sevenfold before festival veterans and headliners Iron Maiden finish, assuredly with "Eddie", their famous mascot, in attendance.
To close out each night of the festival electronic musicians and DJs will play on the Electronic Stage (Eletrônica) beginning at 10:30 PM. Headliners for that stage are; Swedish DJ Otto Knows, Electronic musician Vitalic, French musician Gesaffelstein, DJ Harvey, English DJ Paul Oakenfold, German DJ Loco Dice and Canadian musician Tiga, respectively.
The festival's Rock Street stage has been renovated, changing 2011's New Orleans inspired theme styled into a tribute to London's Camden and Ireland's Grafton Street. There, numerous artists and musicians will add to the festive atmosphere, performing daily starting at 2PM.