By Fiona Hurrell, Contributing Reporter
RIO DE JANEIRO, BRAZIL – Guinness, tall green hats, shamrocks and typical Irish merriment are all synonymous with Saint Patrick, Ireland's catholic Patron saint and figurehead of one of the country's most popular public holidays, Saint Patrick's Day on March 17th.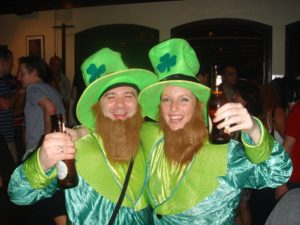 In Rio, a city where partying comes naturally, celebrating St. Patrick's Day is a given, very often, bars and pubs across the city will bustle with one common goal, to rejoice together in tribute to Ireland's favorite Saint.
Conor Brady, one of Rio's long term Irish residents explains the benefits of being able to celebrate a familiar custom, despite being far from home. "Being a foreigner in Rio can be hard going, so we try and stick together and help each other out if we can. We had a party last year with some Irish music, it was good craic."
With a range of pubs and bars to frequent, it is hardly surprising that the residents and visitors of Rio will be out in force this Saturday, taking advantage of March 17th falling on the weekend.
Popular Irish-American watering hole Shenanigan's in Ipanema never disappoints this time of year, describing itself as having an "Irish Heart and Brazilian soul." Serving a hearty selection of Irish distilled whiskeys and beers, including Guinness, the bar will be opening extra early for the holiday.
Managing Partner Michael Taylor says: "We will open at 11:30AM and have Happy Hour until 6PM … we have live music from 6PM till 1AM [as well as] promos from 6PM on [with] Heineken is sponsoring our event." he adds, "We always have a good mix of people from all walks of life."
Fellow Irish-themed local, The Lapa Irish pub in Lapa is, as always, planning a themed night in honor of the occasion, promising customers a treat in the form of two Irish folk bands, the Beagle Boys and Sideways.
For those who want to take it to another level, Dubliner Promotions owner and music Producer Liam Lawler has organized a special Ministry of Sound dance music event in honor of St. Patrick's Day.
Lawler has even recruited the services of internationally renowned Irish Ministry of Sound DJ Shane Kehoe to headline the event. He explains "In mid January or so I was thinking of St. Patricks Day. As an Irishman, Shane loved the idea of a St. Patricks Day party with an Irish producer and an Irish DJ."
What's more, it isn't just the Irish themed pubs and bars in Rio that are putting on a St. Patrick's Day party. Much-loved Mexican bar and restaurant, Blue Agave, situated in both Copacabana and Ipanema, are preparing for the action as well.
Co-owner Richard Nelson confirms: "We are celebrating St. Paddy's day with some food and drink specials. It's a good day and great to celebrate with everyone. Brazilians love to party … the mix of cultures and celebrations is always a good thing for Rio."
In addition, The English owned Lord Jim's pub in Ipanema will provide it's own festive celebration with a selection of beers and traditional beef and ale pie. There is also the added bonus of the final Six Nations Rugby tournament which will culminate on Saturday with a game between, none other than, England and Ireland.
Especially in the aftermath of Carnival, residents of Rio can be left feeling a little low, yet St. Patrick's Day provides the perfect tonic for anyone who hasn't quite hung up their party shoes. As Jack Woodall, chairman of The British and Commonwealth society says "Good food & drink [and a] party atmosphere" are all that's required for a great St. Patrick's Day.