By Felicity Clarke, Senior Reporter
RIO DE JANEIRO – The build up rumble of drums that will culminate in Carnival is well under way, as Rio's streets become the venue for the exhilarating samba rhythms pounded out by the city's "blocos". Blocos are the musical street parades that for some, are a fun alternative to paying the high prices of watching Carnival in the Sambodromo, or for those who just enjoy the weeks of pre-parties, that defines the Carnival experience.
The biggest bloco is reportedly the Cordão do Bola Preta, that attracts some 200,000 people to downtown Rio. The second biggest is Monobloco that attracts 80,000 people at Copacabana Beach.
With less just a few weeks to go, street parties are popping up all over the city as the neighborhood blocos start to rehearse for the four day festival which will start on Saturday, February 13th.
Developed organically as a small-scale, localized expression of Carnival in the late nineteenth and early twentieth century, the blocos often consist of a dominant drum section augmented by a wind section and a troupe of dancers as well as a crowd of revelry following. There are now over 300 blocos in Rio de Janeiro, and the number grows every year as groups form to play original compositions, classic Carnival "marchinhas" and popular samba songs.
Wherever you find yourself in Rio during Carnival you'll stumble across a bloco party, but there are the famous, must see blocos that deserve a special place in your Carnival schedule.
Founded in Glória in 1918, Cordão do Bola Preta is one of the most traditional samba blocos in the city and the last one to recall the "cordão" Carnival groups of the late nineteenth and early twentieth century. Playing a vast repertoire of traditional samba marches, the popular bloco with the black and white colors will march along Avenida Rio Branco to Praça Mauá on Saturday, February 13th from 3PM.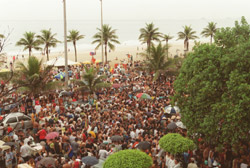 Over in Zona Sul is one of the more entertaining and famous blocos. Banda de Ipanema was founded in 1964 as part of Ipanema's flourishing bohemia, at the time to reinterpret traditional samba folk sensibilities and invigorate Carnival in Ipanema with a spirit of fun. Suited and straw-hatted musicians pretend to play damaged instruments while banners sport the bloco's mad, meaningless motto "Yolhesman Crisbeles."
The all-inclusive flavor of Banda de Ipanema attracts a huge and varied following: expect extravagant costumes and a wild energy as they march to Ipanema from Rua Gomes Carneiro from 4PM on Saturday, February 13th and Tuesday, February 16th.
Santa Teresa's Bloco das Carmelitas is one of the younger blocos to establish a solid party reputation. Founded in 1991, the Carmelitas began as a light-hearted tribute to the Carmelite Convent of Santa Teresa and the legend of the nun who jumped over the convent walls to enjoy Carnival with the masses. As such, the group's traditional costume is the nun's veil to prevent the runaway nun being identified. Catch the party on Santa Teresa's sloping streets on Friday, February 12th from 2PM and Tuesday, February 16th from 8AM.
A bloco with a distinctly Rio flavor is the popular Suvaco do Cristo group in Jardim Botânico. Born out of a casual conversation amongst friends on the beach in 1985, Suvaco do Cristo (meaning "Christ's armpit") takes its name from the story of composer Tom Jobim complaining that his closets were full of mold because he lived in the armpit of Christ. The bloco marches on the streets directly under Christ the Redeemer from Rua Jardim Botânico to Praça Santos Dumont from 8AM on Sunday, February 7th.
Don't forget that this is Rio, and it's Carnival, therefore all times and dates are subject to change, but not to worry because wherever you are there's a bloco party just around the corner waiting to be discovered.
Clarification: January 29, 2010
This article was first published on January 26th with a statement that for some, was unclear about blocos, which are not targeted towards any demographic in Rio.