By Jay Forte, Contributing Reporter
RIO DE JANEIRO, BRAZIL – The Shell Open Air Cinema Tour and festival arrived in Rio last week, and is running from June 7th through June 25th with film screenings and live music performances at the Marina da Glória.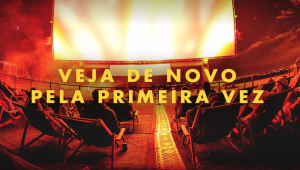 Reported as the largest outdoor screen in the world the 'Super Tela' is the size of a tennis court and includes a sound system composed of 28 Dolby Digital Surround speakers.
The film program includes classics, blockbusters, children's and national Brazilian films, as well as many culinary options and a selection of musical performances.
Under new sponsorship in 2017, the event has been run by D + 3 Produções for fifteen years. "Shell Open Air is a celebration of the 'seventh art', which takes the cinema beyond the exhibition halls and integrates it into lush landscapes. It is an invitation to escape from the routine, for those who love cinema," says Renato Byington, managing director of D + 3 Produções.
Tonight (Saturday, June 10th) at 11PM the audience will see "The Shining", a classic directed by Stanley Kubrik and one of the most iconic performances by Jack Nicholson. An unforgettable evening for horror and suspense for movie lovers.
Other screenings this month include; "Beauty and the Beast" (2017) on June 11th, "Moulin Rouge" (2001) on June 16th, 007 "Skyfall" (2012) and "Spectre" (2015) on June 22nd, "Footloose" (1984) on June 23rd, and many others between now and June 25th.
Tickets are on sale through the Digital Ticket Office and selected Shell stations. On the programming days, tickets will also be sold at the box office of the event, at Marina da Glória, from Wednesday to Sunday, from 4PM to midnight.
What: Shell Open Air 2017
When: June 7th to June 25th, show times vary
Where: Marina da Glória, Rio de Janeiro
Entrance: Prices vary, and available online.