By Fiona Hurrell, Senior Contributing Reporter
RIO DE JANEIRO, BRAZIL – Anyone walking by the Lagoa Rodrigo de Freitas around Christmas time will notice the famous Árvore de Natal (Christmas Tree) that opens on December 1st. For many, its presence signifies the coming of Christmas to Rio and the start of some much-anticipated holiday celebrations.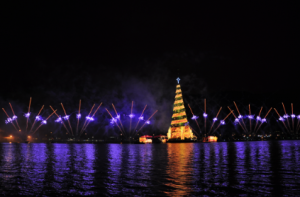 The tree itself, which is constructed from a collection of complex lighting aids and reaches 28 stories high, is unveiled in a ceremony of fireworks and Christmas carols, as well as some free shows around the Lagoa.
Expatriate Andrea Braga has lived nearby for years and describes: "To see the tree all lit up at night fills me with the spirit of Christmas. What's amazing, to me, is the amount of people who come to witness the tree being switched on, not just from Zona Sul [South Zone] but all over Rio and even other cities in Brazil."
For a number of expatriates, spending Christmas in Rio can seem a daunting prospect, especially with friends and loved ones far away. For this reason, the British and Commonwealth Society (BCS) and the International Club of Rio (InC) have scheduled activities to ensure nobody is left feeling blue over the holidays.
On December 1st, the BCS will be holds their annual Christmas party at the British School in Botafogo from 4PM until 8PM, and the InC will be hosting a gourmet food and wine evening from 8PM until 10PM. These events are held early in the month as many of the group's members tend to travel home as the holidays get closer.
BCS Chairman Robert Barclay admits, "Each country has its traditions and we find that there are two groups who especially enjoy celebrating our British traditions: little children and older people who enjoy remembering their distant childhoods."
The InC's dinner evening will take place at a private residence in Ipanema and Chairwoman Anna Whyte adds, "Come mix and mingle while savoring fine food and wine, enjoying sounds from the season and fabulous views of famous Ipanema beach."
Undoubtedly, one of the best ways to get in to the spirit of Christmas is to decorate ones home with festive objects. While hard to compete with the Northern Hemisphere's Christmas cheer, man shops in Rio carry a wide variety of ornaments.
For artificial Christmas trees and decorations, Lojas Americanas has a wide selection at reasonable prices or, for real trees, plant stores around Ipanema and Leblon stock a few evergreens that resemble the traditional pine tree.
Anyone wishing to honor the more traditional and religious aspects of the holiday can join in with a special 'carols by candlelight' service at the Christ Church in Botafogo on December 16th starting at 6:30 PM. As is customary, the Christ Church will also be holding their annual family Christmas service on December 25th at 10:30AM.
The Union Church of Rio de Janeiro will also be holding their candlelight service with Christmas carols at 7PM on Christmas Eve at its parish on Av. Prefeito Dulcídio Cardoso 4351, in Barra da Tijuca.
Not to be missed, the Gringo Café in Ipanema is offering a Christmas dinner with roasted turkey, gravy, mashed potatoes and green beans from 8:30 AM to 5PM on December 24th and 8:30 AM to Midnight on December 25th.