By Marcelo Duailibe, Contributing Reporter
RIO DE JANEIRO, BRAZIL – The authorities announced that the police force for Ano Novo (New Year's Eve) – known locally as Réveillon – will be ten percent larger than last year. City-wide the Polícia Militar (Military Police – MP) announced that there will be 7,200 police officers and 1,300 vehicles, supporting events from Barra da Tijuca to Niteroi.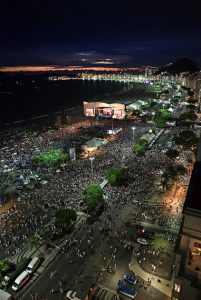 At the Copacabana Réveillon, where an audience of two million people is anticipated, there will be 1,554 policemen will be deployed. Including thirty security towers spread along the beach manned with 300 police officers.
According to the coordinator of MP Communications, Colonel Frederick Caldas, police will be armed with Tasers (non-lethal weapon that immobilizes the person) will be used by police.
"The idea is to use the equipment on people who are causing problems… The person receives a shock and is immobilized without having caused any physical harm", said Colonel Jose Luis Castro Menezes, from the 1st Policing Command Area, also stating that the police were trained to use the Taser.
In addition to an increased police presence, the Secretaria Municipal de Saúde e Defesa Civil (Municipal Health and Civil Defense – SMSDC) has seven medical centers – one more than last year – planned for the public.
In pacified favela communities there will also be increased in policing. Reports state that approximately 1,400 police officers will act in eighteen Pacification Police Units.
The Military Police recommends that people arrive early to the sites, using public transportation as much as possible, and exercise caution with children. The MP also advises not to use glass containers and fireworks.
Read more (in Portuguese).
* The Rio Times Daily Update is a new feature we are offering to help keep you up-to-date with major news as it happens.