By Stephanie Healey, Contributing Reporter
RIO DE JANEIRO – Carnival in Rio is perhaps the most important time of the year, and the city is filled with the sound of samba music. Celebrations are happening around every corner, but the main attraction each year is at the Sambodromo, where the best samba schools compete in arguably the most famous parade in the world.
The American Society of Rio, which was founded in 1917, has organized a trip to be there not just in the stands, but in the parade with full costume.
On Sunday, February 14th The American Society is first hosting a pre-Carnival dinner party at the Ipanema Tower, and then some will go to dance with the Salgueiro samba school at the Sambodromo.
Vanica Royster, the organizer of the Carnival festivities for The American Society, explains that the pre-party and parading with Salgueiro, "is an opportunity that The American Society offers to its members to show what the Brazilian Carnival is like."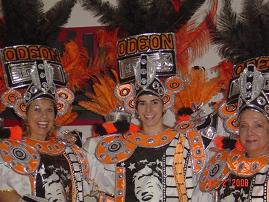 Salgueiro has been their choice of samba school for the last five years, and after they won last year, it was an easy decision for them again this year.
"The pre-Carnival party has been held the last few years at the Ipanema Tower, which also receives all the costumes so people can put them on there, learn the lines to the Salgueiro song, practice a few steps and then go from there to the Sambódromo, by van", Vanica explains.
The pre-Carnival dinner party tickets are R$45, and the paraders will set off from there at 1:30AM, and probably get back around 6AM in the morning.
Despite the late hours, the event has been very popular, and spots are snapped up quickly as member Michael Royster notes, "This year, Salgueiro only had 22 spots available. Vanica sent an email round to all the members and the 22 spots were snapped up within an hour!"
President of the American Society of Rio, Lindsay Duval, comments, "Rio's Carnival is famous throughout the world. How exciting it is to be able to be part of a samba school presentation and dance and strut your stuff in a fabulous costume?"
The American Society of Rio hosts several events throughout the year, celebrating Thanksgiving, Halloween, and even group excursions like last year's snorkeling trip to Bonito.
For further details on the pre-Carnival dinner, email Vanica Royster at: mabor0109@uol.com.br or by phone: 8128-7911.