By Beatriz Miranda, Contributing Reporter
RIO DE JANEIRO, BRAZIL – Because of its numerous street movie theaters, independent cultural events and alternative parties, Botafogo is known among Cariocas as the hipster neighborhood of Rio. Nevertheless, "BotaSoho", as some like to joke, is not only about this alternative vibe, specially when it comes to drinking out.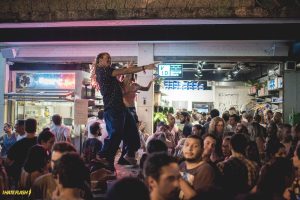 Actually, one can find some of the most diverse bars and audiences in Botafogo.
During the week, Botafogo's bars, restaurants, pubs, cafés and breweries get packed with all types of audiences, from young undergrads to workmates wearing suit and tie.
The area called "Baixo Botafogo" (Low Botafogo, close to the subway station and the Nelson Mandela square) is definitely Botafogo's hottest "drinking zone", concentrating the highest number of bars.
Specially at Voluntários da Pátria Street, you'll definitely get to experience an authentic Carioca "drinking out" atmosphere.
In Baixo Botafogo, make sure to try Void/House of Food. Located in the very heart of Voluntários da Pátria, the hyped venue is very popular among Rio's "cool kids". The sidewalk in front of the bar gets busy every day, from the early evening.
Blending culinary, drinks and fashion, the bar/store invites a different chef to prepare a new menu every week. Besides great imported beer labels, it usually serves delicious veggie food and homemade burgers.
Since Void/House of Food can also be a little overpriced, Rosa de Ouro and Durango's are  the perfect choices for those who want to experience "Baixo Botafogo" without spending too much money.
Situated at the epicenter of Voluntários da Pátria, Rosa de Ouro offers the popular Brazilian beer labels for a fair price and cheap comfort food. "A considerably large pizza that can be shared for a small group of people costs around R$20 reais", says Larissa Armstrong, Carioca masters' student who lives in Botafogo.
Likewise, at Durango's, a tiny bar only a few steps away from Rosa de Ouro, one can enjoy beer and food at "Voluntário's" sidewalk for a really good price. Perfect for an after-party beer or snack, Durango's serves hotdogs for only R$1,99.
A whole different bar concept can be found at the little known Crazy Cats Bistrô, a vintage bar in Sorocaba Street. Situated a few blocs away from Baixo Botafogo, Crazy Cats' vintage decoration and neon lights makes you feel in a movie scene.
The creative drinks are certainly Crazy Cats' specialties, like "Mata Hari", a mixture of Cointreau, sake, strawberry and lychee, and "Lollobrigida", which combines vodka, Limoncello, watermelon and rosemary.
Located at the very same street as Crazy Cats is Comuna, a bar, visual arts center and eventual stage for independent music shows. Initially a hipsters' spot, Comuna, now, attracts all types of audiences, mainly for its burgers – considered by many to be the best in Rio de Janeiro.
Besides its delicious homemade food, Comuna's menu also includes really good drinks, like "Aroma do Campo", with lemon, mandarin, cachaça, and tea infusion of natural herbs.
If arts is an excuse for you to enjoy a drink or two, Olho da Rua, situated at Bambina Street, is just the right address.
Working as a bar, a bistro and a gallery, Olho da Rua is the venue to see many interesting people and the latest from Rio's independent visual arts scene.
During most days, it is possible to enjoy a nice cold beer whilst watching a music show or a theater performance.
For those who like a really cold draught accompanied by a proper meal, Cabidinho is exactly the bar one can count on. Open 24 hours a day, everyday, Cabidinho is a great eating or drinking option, specially for after-parties. A regular draught beer costs R$6, while its fabulous "empada de camarão", Cabidinho's classic finger food, costs R$14.
Situated at Henrique de Novais Street, Botto Bar is a must-go for beer lovers, offering 55 different draught beer taps and releasing a new label every week. What's more, one can also try Botto Bar's dishes, all inspired by the Belgic, German, American and British cuisines.
Finally, the perfect combination of beer and rock music can be found at the Bukowski bar, located in a big vintage house at Álvaro Ramos Street. Despite its pricey entrance (from R$43 to R$55), "Buko" (how people like to call it) will certainly make your night worth it, specially for its live rock music, great drinks and cool environment.
"It is a charming bar that gathers a lot of interesting people. Friday nights at Bukowski are amazing", says Titto Benitez, Argentinian bartender who has been living in Rio for two years.