By Jay Forte, Contributing Reporter
RIO DE JANEIRO, BRAZIL – After providing local and national English-language news to the community of foreigners in Brazil, as well as readers abroad, The Rio Times recently announced their six-year anniversary party. The event will be held in Ipanema on Thursday, March 26th, from 7PM to midnight and is co-hosted by luxury real estate firm Rio Exclusive.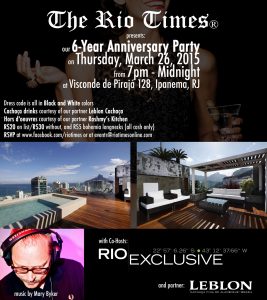 The Rio Times launched in March 2009, and has had over two hundred freelance reporters writing for them and published almost 8,000 articles. Although setting up to become the local community source of information in the city, the news agency has also covered the major events that have caught international attention, from Rio's UPP (Police Pacification Program) to the hosting of the World Cup.
Editor and Publisher, Stone Korshak, explains, "When I think about being in Vidigal sitting next to young guys (traficantes) with machine guns and chrome-plated 9-mm pistols, it is amazing how much the city has changed in six years with the UPP. Or the way the General Osório metro stop has opened access to Ipanema, and all these new metro stations under construction through Leblon will continue to reshape life in Rio."
Another major topic – and the focus of the new Print Edition – in the city and especially in Zone Sul (South Zone) real estate values have increased by two hundred percent in some cases. There are massive infrastructure efforts underway and the Olympics are set to arrive in approximately a year and a half, keeping Rio and Brazil a fascinating place with no shortage of news to report.
To celebrate six years, The Rio Times is hosting an event unlike anything they have done before. By partnering with Rio Exclusive, they have access to one of the most gorgeous locations in Ipanema to host a party, a three-floor penthouse with amazing views of the city.
Flora Lowther of Rio Exclusive explains how they became involved in the event, "We have worked with The Rio Times for many years and its great to be able to support them for their sixth anniversary. It also gives us the perfect opportunity to welcome great people into our property to see what Rio Exclusive is about and the type of properties we represent."
She describes the location, "This stunning Ipanema penthouse combines sophisticated luxury with a breathtaking 360 degree panoramic view of the tropical paradise of Rio de Janeiro. Centrally located in the chic neighborhood of Ipanema, the private roof-terrace is the true highlight of this property, where guests will be able to enjoy the incredible vista of the Ipanema bay, the mountains of Niteroi and sunset over the famous 'Dois Irmaos'."
Stone Korshak explains more about the event, "There will be limited capacity of a one hundred people, and everyone will wear only colors of black and/or white, from casual to elegant, only black and white allowed. We have a free artisan cachaça bar for part of the night courtesy of Leblon Cachaça, will sell Bohemia longnecks and hopefully white wine all for just R$5, and have an amazing DJ, Mary Byker (of Pop Will Eat Itself)."
There will also be light snacks and appetizers provided by highly-regarded authentic Indian food, Rashmy's Kitchen. Space will be limited so those interested should put their name on the official list by pre-paying for the entrance. Updates of new promotions and partners will be posted on the Facebook Event page.