By Fiona Hurrell, Contributing Reporter
RIO DE JANEIRO, BRAZIL – G.R.E.S. Unidos da Tijuca, Rio's third oldest Samba school, were crowned champions in 2010 and runners up in Carnival 2011. This year they are looking for victory when they perform on February 20th at 01:20 AM with their new Enredo (Theme), "O Dia em Que Toda a Realeza Desembarcou na Avenida para Coroar o Rei Luiz do Sertão" meaning "The day royalty landed on the avenue to have king Louis Crowned".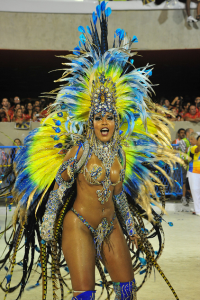 The parade will pay tribute to Brazilian singer and Composer Louis Gonzaga who died in 1989, and shall be delivered at a time which marks the artist's centenary year, for which the school will celebrate the renowned hits "Asa Branca" and "Xote das Meninas".
No doubt Unidos da Tijuca will be incorporating their unique style in to the routine such as featuring dancers placed on top of huge stilted sculptures and as always, their famous Baterias, known as Pura Candencia, which is thought to be one of the best in the Rio carnival.
The school, which hails from a hilly region of Tijuca in Rio's Zona Norte (North Zone), was established in a favela inhabited by slaves and later, the descendants of emancipated slaves who were released from the coffee plantation of Vale do Paraiba.
Though the road to success has, at times, been difficult, Unidos da Tijuca have avoided demotion since 1998 and, since hiring notorious Carnival producer Paulo Barros in 2004, the club has gone from strength to strength.
One of the favorites for the 2011 title, the school paraded with the theme Essa noite levarei sua alma! (Tonight I'll take your soul) about fear in movies. An unusual Comissão de frente (Front Committee) performed a simple but effective trick with components dressed as scary characters who seemingly took their heads off, and played with it, then put them back on – was one of the most memorable moments of the year.
Recognized by its bright blue and gold color themes, the school has a huge following and can boast a number of famous Rainha da Baterias (Queen of the Drums) such as model and actress, Adriane Galisteu who danced for the club for four years, Fabia Borges who later represented Rio at London's famous Notting Hill Carnival and Model Ana Paula Evangelista.
This year, actress and model Garacyanne Barbosa, will make her debut as the school's Rainha da Bateria. With it being her first time heading the club's parade the self confessed 'gym bunny' is training hard in preparation for Carnival with the determination of an Olympic athlete, stating to O Globo news station G1, "I work all year and I diet, but the main preparation is the samba".
The actress has been working closely with former Samba dancer Aldione Sena in order to give a show-stopping performance which she hopes will be the first of many. "I had never paraded in Rio and I don't have samba in my DNA so I decided to take these classes, which last an average of one hour."
Unidos da Tijuca will be the fifth school to parade on Monday 20th February; in the meantime, however, the school will be rehearsing at the Sambódromo on February 5th. Alternatively, one can watch them rehearse at their Tijuca club house in the run up to Carnival, visit the website for details.