By Chesney Hearst, Senior Contributing Reporter
RIO DE JANEIRO, BRAZIL – Contrary to earlier information released by Riotur (Rio's tourism organization), The Black Eyed Peas singer will.i.am will not perform at Rio's Copacabana New Year's Eve event or Réveillon de Copacabana as the celebration is known locally.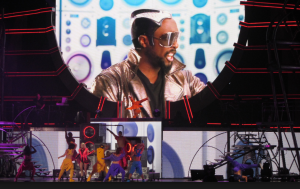 In a statement forwarded to The Rio Times, Polo Molina, Manager, iambizzy is quoted as saying; "will.i.am and his management representatives received an invitation for will.i.am to perform at a New Year's Eve event on the beach in Rio de Janeiro, Brazil. During discussions about the invitation, the event producer expressed an intention to televise the concert. will.i.am's management team requested certain staging elements be added for the show in order to accommodate his televised performance. These staging elements were not confirmed, so no agreement to perform was ever reached."
"Regrettably, mention of will.i.am's inclusion in the New Year's Eve show leaked without consent from his team," the statement continued adding, "will.i.am is not contracted or scheduled to perform on New Year's Eve in Brazil, and apologizes to his fans for confusion caused as a result of the unauthorized and premature external discussion of his involvement."
Will.i.am was invited to take part in the event, themed in celebration of the upcoming release of the animated film "Rio 2″, due to his role as the voice of the Red-crested Cardinal character known as "Pedro" in both "Rio" and "Rio 2″.
Performers Nando Reis, Lulu Santos, Carlinhos Brown, and members of the 2013 Carnival champion samba school of Vila Isabel are still scheduled to perform during the event. Additionally, Fox will televise the performances live in South America and the United States as planned.
Read more (in Portuguese).
* The Rio Times Daily Updates feature is offered to help keep you up-to-date with important news as it happens.