By Bruno De Nicola, Contributing Reporter
RIO DE JANEIRO – The Carnival Bloco will march, on August 16, on the streets of Centro to celebrate Songoro Cosongo's fourth anniversary, bringing summer sounds and flavors to the Brazilian winter. The street party will be a great chance for newly arrived Gringo residents and travelers to experience a little of what goes on during Carnival in Rio.
Songoro Cosongo – the name inspired by a Cuban poem written by Nicolás Guillén in 1931 – is a band born in Santa Teresa and composed mainly of foreigners who met in 2005. They put together their different Latin American cultural backgrounds to create something often missing in the Carioca music scene: contact with the rest of the continent.
Its members hail from Argentina, Venezuela, Columbia, Chile and Brazil, and they play a mix of Brazilian music, Latin rhythms, Reggae and Jazz. Their quick rise in Rio has the ultimate stamp of approval: the band has led a successful Bloco in the Carnival since 2006.
Over the past ten years, carnival goers' interests have shifted from the Sambodrome, with its flashy costumes and floats, to colorful street bands parading across the city over the four days of Carnival, the so called "Blocos Carnavalescos".
Depending on their size and tradition, Blocos are musical formations that can go from twenty to one hundred musicians, normally divided into two sections: winds and drums. They march on a set day during Carnival, following an established route, playing the traditional "marchinhas" (marches) and carrying a huge banner, called "estandarte", which leads the parade.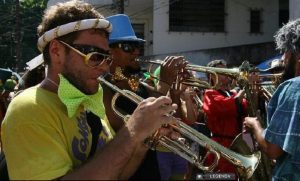 Some Blocos are very choreographed, others have proper dance sections, and all are followed by thousands of Foliões (ravers), dancing and singing along with the band, dressed in the most colorful and crazy outfits. Just as the band did for Rio's music scene, Songoro Cosongo's Bloco has brought innovation to the Carioca carnival with its international flavor.
After its first performance (2006) in Santa Teresa, people started to refer to the Sonogoro Cosongo Bloco as "Bloco dos Gringos" – The Foreigner's Bloco – because of its unusual multinational verve.  "The Bloco is a great opportunity to show Brazilians that the rest of South America has beautiful rhythms and many cultural connections with Brazil," said lead percussionist Victor Giraldo, who hails from Columbia. He pointed out that the traditional "Marchinas" make room for Salsa, Cumbia, Merengue and other popular Latin American rhythms.
The Bloco will parade through a carnival party, offering all Gringos a great chance to put on a mask and sample the legendary carnival atmosphere.
The Bloco will start playing in the square Praça Tiradentes, close to Rua do Teatro, at 1:00PM. The best way to get there is to take the subway to Largo do Carioca and walk about a hundred yards along Rua do Carioca.