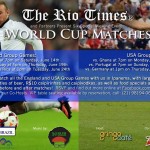 Monday's Rio Nightlife Pick – Tonight is the first World Cup group game for the United States and at the Gringo Café in Ipanema, The Rio Times, along with special partners, is presenting the match live on a large screen as the second of six USA and England World Cup group games viewing events.
The action begins at 7PM with the USA taking on Ghana. Promotions during the viewing event include R$5 bottles of beer, R$10 caipirinhas and caipivodkas and various to-be-announced meal specials. Additionally DJ Slim will play before and after the game.
The next viewing event will be England vs. Uruguay on Thursday, June 19th. Next the USA will then go up against Portugal on Sunday, June 22nd and England will take on Costa Rica on Tuesday, June 24th. Finally the USA will play Germany on Thursday, June 26th.
See The Rio Times event page here for more information and come out tonight and cheer on your national team with friends. Everyone is welcome!
LIVE:
The Rio Times World Cup Viewing Party (Ipanema)
Come watch the USA take on Ghana in their first group match of the World Cup live on a large screen at the Gringo Café in Ipanema. There will be R$5 bottles of beer, R$10 caipirinhas and caipivodkas and additional food promotions. DJ Slim will play before and after the games.
Gringo Cafe – 7PM
Rua Barão da Torre 240 Loja A, Ipanema- Tel: (21) 3813-3972
Entrance: Free
FIFA Fan Fest (Copacabana)
From June 12th through July 13th, Copacabana beach will be home to the FIFA Fan Fest during the 2014 World Cup games. The 31,000 m² area on the beach between the streets of Princesa Isabel and Duvivier, will house a large screen to view the matches live and a stage for entertainers that, during the tournament, will include; Sorriso Maroto, Dudu Nobre, Arlindo Cruz, Anitta, Sandra de Sá, Bom Gosto, Suvaco de Cristo, Cordão da Bola Preta, Fogo e Paixão, Bloco Brasil, Empolga às Nove, Blitz. All 64 matches of the World Cup will be shown live, which the exception of simultaneous games, when one match will be broadcast later. On Brazilian match days a second 50m² screen will be added . Each game day, the area between the streets of Princesa Isabel and Duvivier will open two hours before the first match of the day and always close at 10PM. Capacity for the area is 20,000. Entry is free and entrance will be granted according to order of arrival.
FIFA Fan Fest – 11AM
Praia Copacabana, The beach area between the streets of Princesa Isabel and Duvivier
Entrance: Free
CLUBS:
Just Follow (Copacabana)
It's time again for minimal, tech and deep house tonight as Copacabana's popular club Fosfobox hosts the Just Follow party. DJs Orson Meirelles of 4 Finest Ears, Marcio Careca of the D-Edge Agency and Resident DJs Toledo and Sean Diss will spin in Fosfobox's basment. Above at the Fosfobar, DJs Carol Hollanda of 4 Finest Ears and Skull B of Me Gusta will spin, keeping the party going through the night and early morning hours until 8AM. VJ Maddog will also provide visuals during the event.
Fosfobox – 10PM
Rua Siqueira Campos 143, Copacabana – Tel: (21) 2548-7498
Entrance: R$30-R$50
I Hate Mondays (Gávea)
The I Hate Mondays party returns with Gávea's Village Jockey Club hosting the event tonight. DJs Fl3sh Disco, Beto Artista, Omulu, Marky, Tamenpi, and Sants will spin the best in twerk, bass, funk, electronic and house.
Village Jockey Club – 11PM
Praça Santos Dumont 31, Gávea – Tel: (21) 3285-8570
Entrance: R$50-R$100
Digital Dubs, Bangarang and Soundsystem (Lapa)
Tonight at Lapa's Leviano it's again time for ska, rocksteady, and early reggae plus some old school Jamican as Digital Dubs welcomes special guests Bangarang and Soundsystem to their weekly party. Budweiser Longneck bottles will be only R$5 all night.
Leviano – 10PM
Mem de Sá 47, Lapa – Tel: (21) 2507-5779
Entrance: R$20
Rio Boat Club (Marina da Glória)
A two-story boat turns into a night club complete with top DJs and a happy hour with free drinks before midnight. There are some amazing views to take in as the boat travels around Guanabara Bay.
Marina da Glória – boarding from 11PM, boat departs at 12:30 AM
Avenida Infante Dom Henrique, Glória – Tel: (21) 7872-2748
Entrance: R$60
MÚSICA BRASILEIRA:
Pedra do Sal (Gamboa)
Classic Roda de Samba with an emphasis on the music's African roots is back at Pedra do Sal in the Gamboa area of Centro tonight. The weekly event is considered by many to be one of the most authentic Rodas de Samba in the city.
Pedra do Sal – 6PM
Rua Argemiro Bulcão 38, Gamboa – Tel: (21) 9528-5060
Entrance: Free
Roda de Samba with Rixxas (Lapa)
For more dancing and singing, head to Lapa's Carioca da Gema tonight as the venue will come alive with three hours of live samba provided by brilliant percussionists, vocalist Rixxa and members of the Zeca Pagodinho band. Vocalist and guitarist Marcos Novatto will start off the night at 8PM.
Carioca da Gema – 8PM
Av. Mem de Sá 79, Lapa – Tel: (21) 2221-0043
Entrance: R$23
PUBS & BARS:
Shenanigan's Live Music (Ipanema)
With live music and classic pub games like darts and pool, Ipanema's Shenanigan's is always a great spot to visit. Happy Hour is dose dupla (two for one) on Mondays through Fridays 6PM – 8PM. Additionally, Monday is also half-priced steak night until 9PM.
Shenanigan's Irish Pub – 7:00PM
Rua Visconde de Pirajá 122A (Upstairs), Ipanema – Tel: (21) 2267-5860
Entrance: R$10 after 8PM
Mab's Restaurant and Bar (Copacabana)
This American-owned beachfront restaurant and bar on Copacabana Beach is a great place for food and drinks. Additionally during the World Cup, Mab's will be showing the games live on 50" TVs.
Restaurante Mab's – 5PM
Avenida Atlantica 1140, Copacabana – Tel: (21) 2275-7299
Entrance: Free
The Clover (Copacabana)
Come enjoy the true benefits of an upscale pub including great imported beers in a great environment.
The Clover Irish Pub – 7PM
Av. Atlântica 3.056 Lj. B, Copacabana – Tel: (21) 2548-8484
Entrance: Free
—
To have an event included in the weekly Nightlife Guide, please email:
events[at]riotimesonline[dot]com.