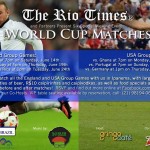 Saturday's Rio Nightlife Pick – Tonight is England's first World Cup group game and at the Gringo Café in Ipanema, The Rio Times, along with special partners, is presenting the match live on a large screen as the first of six England and USA World Cup group games viewing events.
The action begins at 7PM with England taking on Italy. Promotions during the viewing event include R$5 bottles of beer, R$10 caipirinhas and caipivodkas and various to be announced meal specials. Additionally DJ Slim will play before and after the game.
The next viewing event will be the USA taking on Ghana on Monday, 16th followed by England vs. Uruguay on Thursday, June 19th. The USA will then go up against Portugal on Sunday, June 22nd and England will take on Costa Rica on Tuesday, June 24th. Finally the USA will play Germany on Thursday, June 26th.
See The Rio Times event page here for more information and come out Saturday and cheer on your national team with friends. Everyone is welcome!
LIVE:
The Rio Times World Cup Viewing Party (Ipanema)
Come watch England take on Italy in their first group match of the World Cup live on a large screen at the Gringo Café in Ipanema. There will be R$5 bottles of beer, R$10 caipirinhas and caipivodkas and additional food promotions. DJ Slim will play before and after the games.
Gringo Cafe – 7PM
Rua Barão da Torre 240 Loja A, Ipanema- Tel: (21) 3813-3972
Entrance: Free
FIFA Fan Fest (Copacabana)
From June 12th through July 13th, Copacabana beach will be home to the FIFA Fan Fest during the 2014 World Cup games. The 31,000 m² area on the beach between the streets of Princesa Isabel and Duvivier, will house a large screen to view the matches live and a stage for entertainers that, during the tournament, will include; Sorriso Maroto, Dudu Nobre, Arlindo Cruz, Anitta, Sandra de Sá, Bom Gosto, Suvaco de Cristo, Cordão da Bola Preta, Fogo e Paixão, Bloco Brasil, Empolga às Nove, Blitz. All 64 matches of the World Cup will be shown live, which the exception of simultaneous games, when one match will be broadcast later. On Brazilian match days a second 50m² screen will be added . Each game day, the area between the streets of Princesa Isabel and Duvivier will open two hours before the first match of the day and always close at 10PM. Capacity for the area is 20,000. Entry is free and entrance will be granted according to order of arrival. apacity for the area is 20,000. Entry is free and entrance will done according to order of arrival.
FIFA Fan Fest – 11AM
Praia Copacabana, The beach area between the streets of Princesa Isabel and Duvivier
Entrance: Free
CLUBS:
Plano B Records Showcase (Copacabana)
Tonight Copacabana's increasingly popular club Cave hosts a Plano B Records Showcase. The Rio music label, founded by DJ/Producer Vicente Amadeo and sound engineer Rafael Sentoma, is home to artists including Luthier, Glitter, Eclectic, Simple Jack, Art In Motion, Lauro Viotti, Nytron, Krash!, Toucan, Dashdot, and Alex Stein, among others. Tonight Nytron, Lauro Viotti, Art In Motion, Bruce Leroys and Eclectic will throw down live in celebration of the label.
Cave – 11:45 PM
Rua Francisco Otaviano 20, Copacabana – Tel: (21) 3576-8024
Entrance: R$40-R$60
Finalmente (Copacabana)
The Finalmente party will bring tech, deep house and disco to Copacabana's Fosfobox club tonight. Very special guest Akin, founder and director of Metanol.Fm, will be on hand, as will Saul Laudares, creator of popular Rio events including GangBang and Hi-Fi. Resident DJ Michael Jozef of the U.S. returns for the night and he and Carioca DJ, Vini, will deliver some of the best deep and tech house you can hear anywhere in Rio tonight.
Fosfobox – 11PM
Rua Siqueira Campos 143, Copacabana – Tel: (21) 2548-7498
Entrance: R$ 20-R$40
Rocknbeats (Lapa)
Tonight Lapa's Teatro Odisséia hosts a special edition of Rocknbeats spotlighting the bands Muse, on the first floor, and the Foo Fighters, on the second floor. DJs Junior Passini, Thiago Burgos, Arlei Machado and Igor Boechat will spin the bands' hits plus the best of indie rock and rock from the 70s through today. Additionally there will be free Gummy Vodka all night and, to brighten things up, there will be a wall of neon panels and glow sticks.
Teatro Odisséia – 11PM
Av. Mem de Sá 66, Lapa – Tel: (21) 2226-9691 / 2224-6367 / 9374-7562
Entrance: R$20-R$35
Pop 'N' Roll Máfia (Centro)
Tonight Centro's Espaço Acústica will host the Pop 'N' Roll Máfia event. DJs Millah Bass, Felipe Malfoy and Ivvyz Santos will spin pop, electro-pop, hits and funk on the first stage while DJs Wagner Fester and Thiago Halleck will spin rock and indie rock on the second stage. Additionally the event will include welcome shots of whiskey to the first one hundred attendees as well as providing various gifts matching the theme, including cigars and shots of tequila throughout the night. Whiskey and Budweiser will be double dose (two for one) all night for R$10.
Espaço Acústica – 11PM
Praça Tiradentes, 2, Centro– Tel: (21) 2232-1299
Entrance: R$20-R$40
Zebrazil (Gávea)
00 (Zero Zero) hosts the international event known as Zebrazil beginning at 9PM. Currently on tour, the party tonight in Gávea will include DJs Silvina Luna and Lucas Ballesteros.
00 (Zero Zero) – 9PM
Av. Padre Leonel Franca 240, Gávea – Tel: (21) 2540-8041
Entrance: R$20-R$40
Dance Floor (Glória)
La Passion Club in Glória will host the Dance Floor event with DJs Rodrigo Mattos, Fernanda Fox and SHARK spinning house, hip hop, hip-house and various beats. There will be an open bar until 12:30 AM with beer, Sex on the Beach, caipirinha, and water. Additionally, beers, tequila, Sex on the Beach and Vodka Nacional will be dose dupla (two for one) all night long.
La Passion Club – 10PM
Av. Augusto Severo 200, Glória – Tel: (21) 2222-0667
Entrance: R$30-R$40
Synthetic Machinery and Cybergoth Rio Meeting (Praça da Bandeira)
It's time to go Cybergoth and to experience a little something different in Rio tonight as Porto Pirata hosts Maquinaria Sintética e Encontro Cybergoth Rio (Synthetic Machinery and Cybergoth Rio Meeting). Entry is free and during the event, DJs Oji Sama, PSIctrlSYNTH, Ísa Kavian, and Gato Preto will spin the best of synthpop, EBM (Electronic body music), aggrotech, darktrance psy, minimal electro, darkwave, harsh noise, and experimental electro to help you get your synthetic machinery in gear.
Porto Pirata – 11PM
Rua Lopes de Souza, 24, Praça da Bandeira– Tel: (21) 2520-2754
Entrance: Free
Leo Medina and John Failly (Lagoa)
Visiting from Jet CLUB, Buenos Aires, DJ Leo Medina will spin EDM and house tonight at the posh Lagoa club Miroir tonight. DJ John Faily will also take to the decks.
Miroir – 11PM
Av. Epitácio Pessoa, 1484, Lagoa– Tel: (21) 2513-3898
Entrance- See venue for details.
MÚSICA BRASILEIRA:
Dona Onete and Mestre Vieira (Centro)
Tonight is the second of three nights that singer Dona Onete will perform works from her most recent album entitled, Feitiço Caboclo, at Centro's CAIXA Cultural Rio de Janeiro. During the shows, Onete wlll be joined by guitarist Mestre Vieira, creator of the Guitarrada music genre. Viera has twenty studio album releases to his name and is well known for his unmistakable style. Together the two will perform songs including; "Proposta indecente", "Amor brejeiro" and"Poder da sedução". Mestre Vieira will also play some of his popular works including; "Lambada do Rei", "Pegando Corda" and "Cidade Linda"
CAIXA Cultural Rio de Janeiro – Teatro de Arena – 7PM
Av. Almirante Barroso, 25, Centro– Tel: (21) 3980-3815
Entrance: R$10-R$20
Baile Black Bom (Gamboa)
It's the second Saturday of the month and that means it's time again for the Baile Black Bom (Good Black Party). Hosted on the famous Rio site of Pedra do Sal, the event is a celebration of Afro-Brazilian culture. For the eighth edition tonight, band Consciência Tranquila and DJ Leandro Marcelino Flash return to reinterpret classic funk from the 70s, R & B, and hip-hop until midnight.
Pedra do Sal – 5PM
Rua Argemiro Bulcão 38, Gamboa – (21) 9528-5060
Entrance: Free
Nelson Félix and Ana Costa (Lapa)
Nelson Félix starts off the night at Carioca da Gema at 9:30 PM with singer Ana Costa following at 11:30 PM. Costa reinvigorates the sounds of old samba with the songs on her 3rd album and will play those works live tonight, as well as, playing her reinterpretations of the works of Cartola, Nelson Cavaquinho, and Chico Buarque, among others.
Carioca da Gema – 9:30 PM and 11PM
Av. Mem de Sá 79, Lapa – Tel: (21) 2221-0043
Entrance: R$30
Bebadosamba, Paulinho Mocidade, and Forró de Ponta (Centro)
The group Bebadosamba gets things started tonight at 8PM with samba at Centro's Rio Scenarium. Paulinho Mocidade will follow at 11PM with the sounds of classic and contemporary samba. Beginning at 3AM, Forró de Ponta will again close out the night, with some of the best forró pé de serra you will hear anywhere in Rio tonight.
Rio Scenarium – 8PM and 11PM and 3AM
Rua do Lavradio, 20 casa – Centro – Tel: (21) 3147-9000
Entrance: R$ 25- R$40
Esta Barulhinho Bom (Lapa)
Tonight in Lapa the Esta Barulhinho Bom party brings three live acts to two stages at the Leviano bar. Stradah, house band Seu Bando and the singer Heverton Castro from the show "The Voice Brazil" will perform.
Leviano – 9PM
Mem de Sá 47, Lapa – Tel: (21) 2507-5779
Entrance: R$20-R$30
PUBS & BARS:
MADE in ROCK -Lapa Irish Pub (Lapa)
The band MADE in ROCK will bring the sounds of classic rock to the Lapa Irish Pub tonight. Located beside Lapa's famous Arcos da Lapa (Lapa Arches), this pub is known to draw a fun and energetic crowd and tonight should be no exception. They offer a wide selection of quality imported beers and the decor with its welcoming and familiar feel makes it a great place to drink them while enjoying some quality live music. During the World Cup the pub will also be showing the games live on their screens.
Lapa Irish Pub – 9PM
Rua Evaristo da Veiga 147, Lapa – Tel: (21) 2221.7236
Entrance: R$10- R$20
Saloon 79 (Botafogo)
Saloon 79 provides a unique environment for drinking, eating and rocking out. The fun indoor decor creates a great vibe and this original rocker bar gets loud at night with live bands.
Saloon 79 – 7PM
Rua Pinheiro Guimarães 79, Botafogo – Tel: (21) 7544-5151
Entrance: R$20
Academia da Cachaça (Leblon)
For all things cachaça go here; it's their specialty. They offer great caipifrutas and caipirinhas.
Academia da Cachaça – 9PM
Rua Conde Bernadotte 26, Leblon – Tel: (21) 2239-1542
Entrance: Free
Lord Jim's Pub (Ipanema)
This is the oldest pub in Rio and it's well known for its live music and happy hour.
Lord Jim's Pub – 7PM
Rua Paul Redfern 44, Ipanema – Tel: (21) 2249-4881
Entrance: Free
Mab's Restaurant and Bar (Copacabana)
This American-owned beachfront restaurant and bar on Copacabana Beach is a great place for food and drinks to kick off the night. Additionally during the World Cup, Mab's will be showing the games live on 50" TVs.
Restaurante Mab's – 5PM
Av. Atlantica 1140, Copacabana – Tel: (21) 2275-7299
Entrance: Free
—
To have an event included in the weekly Nightlife Guide, please email:
events[at]riotimesonline[dot]com.