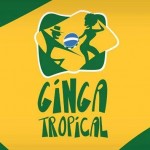 Sunday's Rio Nightlife Pick – For visitors to Rio and those interested in learning more about the city's music and its history, Casarão Ameno Resedá in Catete is the place to be tonight.
Throughout the month of June, the venue will hold Ginga Tropical theater events on Wednesday and Sunday nights. Always beginning at 10PM, the nights will feature the best of Brazilian rhythms and dancing.
A tribute to Brazilian legend Carmen Miranda kicks things off followed by cabaret and a homage to famous Brazilian television presenter Osvaldo Sargentelli. The night will continue with samba, dancing Orixás, lambada, forró, maracatu, pagode, bossa nova, Carioca funk and frevo, almost everything one needs to get a true feel for the rhythms and musical culture of Brazil in one night.
FIFA Fan Fest (Copacabana)
From June 12th through July 13th, Copacabana beach will be home to the FIFA Fan Fest during the 2014 World Cup games. The 31,000 m² area on the beach between the streets of Princesa Isabel and Duvivier, will house a large screen to view the matches live and a stage for entertainers that, during the tournament, will include; Sorriso Maroto, Dudu Nobre, Arlindo Cruz, Anitta, Sandra de Sá, Bom Gosto, Suvaco de Cristo, Cordão da Bola Preta, Fogo e Paixão, Bloco Brasil, Empolga às Nove, Blitz. All 64 matches of the World Cup will be shown live, which the exception of simultaneous games, when one match will be broadcast later. On Brazilian match days a second 50m² screen will be added . Each game day, the area between the streets of Princesa Isabel and Duvivier will open two hours before the first match of the day and always close at 10PM. Capacity for the area is 20,000. Entry is free and entrance will be granted according to order of arrival.
FIFA Fan Fest – 11AM
Praia Copacabana, The beach area between the streets of Princesa Isabel and Duvivier
Entrance: Free
CLUBS:
Score (Copacabana)
Keeping the World Cup theme going, Copacabana's Fosfobox hosts the first of three Sunday "Score" events tonight. DJs will spin the best of pop, indie, and hits. Lucas Lins and Dorly will spin in Fosfobox's basement, while DJs FL3SH Disco, Beto Artista and Convidado hold things down at the Fosfobar. Two for one drink specials on drinks themed according to the match winners of the day.
Fosfobox – 10PM
Rua Siqueira Campos 143, Copacabana – Tel: (21) 2548-7498
Entrance: R$25-R$40
Sundae Tracks (Botafogo)
Sundae Tracks returns to Casa da Martiz in Botafogo tonight with DJ Melvin spinning on the first floor to help you end your weekend with a treat. Additionally, a special to be announced DJ will spin on the second floor of this cozy venue with a familiar feel. There will be a dose dupla (two for one) promotion until midnight for ten drinks; Cuba Libre, caipirinha, caipivodka, Blue Hawaii, Mate-me por favor, Kamikase, Yellow Gin, Scaramouche, Hi-Fi, and Tangerina.
Casa da Matriz – 11PM
Rua Henrique de Novaes 107, Botafogo – Tel: (21) 2226-9691 / (21) 2266-1014
Entrance: R$20-R$35
Duo (Gávea)
End your weekend with house and electro pop at Duo in Gávea's 00 (Zero Zero). The party begins at 5PM and continues in the chic indoor/outdoor venue until 5AM. Things usually get started on the outdoor deck with DJs Fabiano Pax and Marcia Bertonni and then gradually shift inside where DJs Rafael Calvente and DJ Dri Toscano usually spin. The weekly event is also know to host special guest DJs.
00 (Zero Zero) – 5PM
Av. Padre Leonel Franca 240, Gávea – Tel: (21) 2540-8041
Entrance: R$30
MÚSICA BRASILEIRA:
Ginga Tropical (Catete)
Exeperience Brazil's rich musical history at Casarão Ameno Resedá in Catete tonight. Throughout the month of June on Wednesday and Sunday nights, the venue will hold Ginga Tropical theater events featuring the best of Brazilian rhythms and dancing.
Casarão Ameno Resedá– 10PM
Rua Pedro Américo 277, Catete – Tel: (21) 2556-2427
Entrance: R$100-R$160
Dona Onete and Mestre Vieira (Centro)
Tonight is the third and final night that singer Dona Onete will perform works from her most recent album entitled, Feitiço Caboclo, at Centro's CAIXA Cultural Rio de Janeiro. During the shows, Onete wlll be joined by guitarist Mestre Vieira, creator of the Guitarrada music genre. Viera has twenty studio album releases to his name and is well known for his unmistakable style. Together the two will perform songs including; "Proposta indecente", "Amor brejeiro" and "Poder da sedução." Mestre Vieira will also play some of his popular works including; "Lambada do Rei", "Pegando Corda" and "Cidade Linda"
CAIXA Cultural Rio de Janeiro – Teatro de Arena – 7PM
Av. Almirante Barroso, 25, Centro– Tel: (21) 3980-3815
Entrance: R$10-R$20
Marcia Guedes and Empolga ás 9 (Centro)
At 7:30 PM singer and guitarist Marcia Guedes gets things started with classic bossa nova and her reinterpretations of the works of Chico, Gonzaguinha, Cartola, and Noel, among others. The group Empolga ás 9 will follow at 10:30PM bringing a lively Carnaval vibe to Centro's Rio Scenarium.
Rio Scenarium – 7:30 PM and 10:30 PM
Rua do Lavradio, 20 casa – Centro – Tel: (21) 3147-9000
Entrance: R$ 25- R$40
Roda de Samba, Soccer (Football) and Ballet 2 (Lapa)
Sundays are all about samba and soccer at Lapa's Leviano bar. Every week beginning at 5PM the venue plays live games on their screens with samba dancers following the matches and the group Ballet 2 playing classics of the genre, including works by Arlindo Cruz, Zeca Pagodinho and João Nogueira, among others.
Leviano – 5PM
Mem de Sá 47, Lapa – Tel: (21) 2507-5779
Entrance: R$10-R$20
Rogê (Lapa)
Brazilian singer-songwriter Rogê returns to Carioca da Gema tonight for his weekly show at 9:30 PM.
Carioca da Gema – 9:30 PM
Av. Mem de Sá 79, Lapa – Tel: (21) 2221-0043
Entrance: R$23
PUBS & BARS:
The Clover Irish Pub (Copacabana)
Come enjoy the true benefits of an upscale pub including great imported beers and a great environment. Check out "Midnight Happy Hour" with two for one Budweiser's starting at midnight!
The Clover Irish Pub – 7PM
Av. Atlântica 3.056 Lj. B, Copacabana – Tel: (21) 2548-8484
Entrance: Free
Bar Urca (Urca)
If you have never have been to Bar Urca on a Sunday afternoon to drink beers and eat salgados while watching the sunset, you are missing a big part of what it means to be a Carioca. This simple establishment on the bayside has been a hit since 1939.
Bar Urca – 11AM
Rua Cândido Gaffrée 205, Urca – Tel: (21) 2295-8744
Entrance: Free
Mab's Restaurant and Bar (Copacabana)
The American-owned beachfront restaurant and bar on Copacabana Beach is a great place for food and drinks. Additionally during the World Cup, Mab's will be showing the games live on 50" TVs.
Restaurante Mab's – 5PM
Av. Atlantica 1140, Copacabana – Tel: (21) 2275-7299
Entrance: Free
—–
To have an event included in the weekly Nightlife Guide, please email:
events[at]riotimesonline[dot]com.