By Ben Tavener, Senior Contributing Reporter
RIO DE JANEIRO, BRAZIL – Authorities say 700,000 – organizers say 1.5 million – supporters swaddled in rainbow flags took to the streets of Copacabana in Rio's Zona Sul (South Zone) for the city's 17th Gay Pride. The LGBT community's slogan for this year's pride march was "The heart has no prejudice. It has love."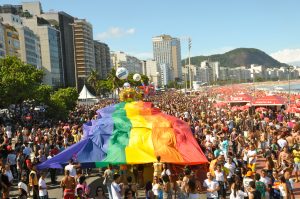 Officials at the event also emphasized the importance of anti-discrimination laws and sexual health vaccines.
Fifteen electric floats carrying performers and revelers, including glitzy drag queens and bare glittery torsos, finally got underway after being delayed by rallying speeches by community members and political figures.
State Environmental Secretary Carlos Minc announced that next week Rio Governor Sérgio Cabral would again be making the case for an pro-equal rights law which would ban commercial establishments from discriminating against members of the LGBT community.
The law has been shelved after opposition from "homophobic" parties, Minc said, telling crowds that it was "a law born from people's desire to take to the streets and shout out loud for their rights."
As well as stressing the importance of fighting homophobia and discrimination in Brazilian society, this year's parade also offered lessons for those taking part in the parade, with public service workers out to educate people about the benefits of having the Hepatitis B vaccination, and also to inform the community better about its legal rights.
Partygoers were also questioned for a survey launched by the local government and Rio State University (UERJ) to find out exactly what the public knows about their rights and public services available to them. 
Others protest movements, such as the "Veta, Dilma!" – the Rio state oil royalties defense group, also took part in the spectacle.
According to the event's organizers, nineteen years of work has led to a number of new laws in defense of the community – including a raft of new legislation passed in 2011 which included the recognition of same-sex unions.
Read more (in Portuguese).
* The Rio Times Daily Updates feature is offered to help keep you up-to-date with important news as it happens.