By Lisa Flueckiger, Contributing Reporter
RIO DE JANEIRO, BRAZIL – This Sunday, October 13th, Rio de Janeiro's 18th Gay Pride Parade will take over Copacabana Beach with its rainbow color and vibrant costumes. The parade will start at 1PM at Posto 5 (near Rua Sá Ferreira) and move along the waterfront with eleven music-blasting floats.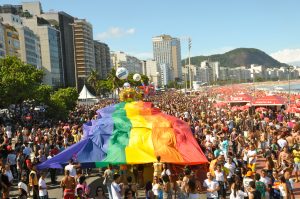 This year's motto is "Justice is blind; we are all equal before the law – believe it and and claim it," as the parade, one of the biggest street parties in Rio, also stands for tolerance and equal rights for the LGBT (Lesbian, Gay, Bisexual and Transgender) community.
According to organizer, Group and Institute Arco-Íris (rainbow), the event celebrates the victories of the LGBT community in Rio, such as the approval of civil same-sex unions and raises awareness about homophobia in Brazil. At least 4,850 people reported suffering from violence due to homophobia last year.
From 9AM, volunteers will be in Copacabana informing visitors and revelers about political issues that affect the community and the citizens of Rio in general, such as environmental awareness, healthcare, such as Hepatitis B vaccination, and lawyers will be present to answer legal questions.
Rio de Janeiro, which has just been elected as sexiest city in the world by the gay community, has a long history of hosting LGBT events. The city, open and friendly to people of all sexual preferences, celebrated its first Gay Pride in 1995, the first LGBT event of its kind in Brazil. Today, it is the country's second biggest parade, with one million visitors last year. A similar number is expected this upcoming Sunday.
Read more (in Portuguese).
* The Rio Times Daily Updates feature is offered to help keep you up-to-date with important news as it happens.