By Lise Alves, Senior Contributing Reporter
RIO DE JANEIRO, BRAZIL – The first two days of armed forces personnel on the streets have already produced a decrease in crime rate in the Rio de Janeiro metropolitan region, Brazil's President Michel Temer told journalists on Sunday afternoon during his surprise visit to the city.
"I have received a very detailed account of what is being done, and the first conclusion that has been reached is that the crime rate has already decreased, in two or three days, mainly in theft of cargo," said the President.
On Friday (July 29th) President Temer signed a decree authorizing the use of the Armed Forces to guarantee law and order in Rio de Janeiro until December 31, 2017, but said on Sunday that the decree could be extended until the end of 2018 if needed.
"In my decree, which I signed on Friday, I established that this operation would take place until December 31, 2017, but nothing prevents us from renewing the decree at the beginning of the year (2018) so as to be extended until the end of 2018," he said.
The increased violence in Rio de Janeiro in the last few months led Rio's governor, Luiz Fernando Pezão to ask for federal help. The Armed Forces are expected to strengthen security along highways which lead into the city as well patrol the tourist areas in Zona Sul (South Zone). Video images of shootings between police and criminals in busy throughways, forcing drivers to leave the cars on the road and run for safety have been more and more common in recent months.
A study conducted by Fundação Getulio Vargas between July 2016 and July 2017, reported that the city of Rio de Janeiro recorded 3,829 shootings, an average of more than ten per day. One of the groups most affected by the recent increase in violence has been school children.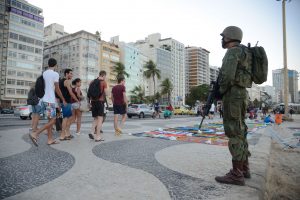 According to Rio's Municipal Department of Education, in the first semester of this year one in four schools were forced to close during certain periods of the day or forced to stop classes because of shootings or other types of violent clashes. The FGV study shows that almost 130,000 students were left without classes for periods ranging from one to 15 days since the beginning of the year.
Before leaving the city, President Temer took a helicopter ride over Rio's famous beachfront and several communities which have been affected by the violence. "This is the first phase of a series of phases to come," said the President, adding, "We have been planning this for a long time."