By Chesney Hearst, Senior Contributing Reporter
RIO DE JANEIRO, BRAZIL – On the eve of the weekend of the 2014 Brazilian runoff elections, the Superior Electoral Court (TSE) verified the biometric identification systems to be used in many Brazilian polling stations. On Sunday, October 26th, the biometrics machines once again will identity many voters by their fingerprints and record their votes, in place of physical ballots.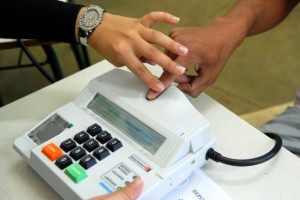 The TSE originally approved the biometric machines for use in the 2014 Brazilian elections on August 20th. The machines have been in use in some locations in Brazil since 2008 with the goal of preventing voter fraud.
The biometric machines work by voters registering digital images of all their fingerprints with authorities prior to the election. Voters must still present photo identification at polling stations where there are biometric machines.
Estimates show that over twenty million voters in 762 municipalities used the machines during the first round of voting held on October 5th. "It's the safest process in existence," TSE IT Secretary Giuseppe Janino told Agência Brasil in August of this year. "We can say there's no perfect system, but the biometric identification is considerably safer and more accurate than regular, man-operated identification."
Problems were reported in the first round of voting with some voters complaining of long lines and others claiming frustration at multiple attempts at placing their fingers on the sensors before their fingerprints were read and recognized.
The TSE stated that the biometric systems had 91.5 percent recognition of voters during the first round of elections. "Poll workers were trained to help the voters with correct procedures. During their training, they did several tests concerning the [finger] positions and pressure on the reader," Ricardo Negrão, Secretary of Information Technology of the Regional Electoral Court of the Federal District (TRE-DF), told Agência Brasil.
After the October 5th elections the TRE-DF found that in Brasília alone, 218 of the machines were not operating properly. They have since replaced the sensors in one-hundred and eighty of the machines.
The TSE claims that for the second round of voting, system efficiency will increase to around 95 percent recognition. Today (Sunday, October 26th) the polling stations will open at 8AM and close at 5PM.
Results of the runoff races that include, the closely contested Presidental race between incumbent Dilma Rousseff and former Governor Aécio Neves, and the Rio de Janeiro gubernatorial race, are anticipated for shortly after the last poll's closing.