By Brennan Stark, Contributing Reporter
RIO DE JANEIRO, BRAZIL – Batalhão de Operações Especiais (BOPE) officers seized a trove of weapons, drugs and fake police uniforms in Rocinha Monday, following the Brazilian military and police force occupation of the favela Sunday.  The takeover has allowed authorities to comb areas that previously went largely unchecked due to the inherent risks.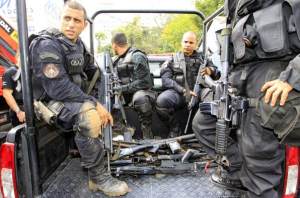 Two rocket launchers, two rocket-propelled grenades, a shotgun with 3,000 rounds, and 24 kilos of cocaine were discovered in an area of the favela known as "Dioneia."  According to the Secretary of Security's office, BOPE received an anonymous tip of the stash's location from local residents.
One hundred fake Civil Police uniforms were also found, leading to suspicions that traffickers had planned to escape the community prior to the military's arrival.
In another Rocinha area known as Vila Verde (Village Green), officers spent eight hours jack-hammering through concrete to reach a collection of fourteen grenades, five pistols, 32 rifles, and abundant ammunition.  The agents were alerted by an anonymous tip and their own investigation.
Official reports state the operation, named Choque de Paz (Shock and Peace) has so far resulted in six people arrested. Also a total of more than 100 types of weapons; 43 rifles, two rocket launchers, a shotgun, two rifles and a submachine gun, almost half a ton of drugs and 75 motorcycles have been seized.
Despite the dramatic operation and subsequent discoveries, life following Sunday morning's occupation of the Rocinha and Vidigal favelas has reportedly returned to a peaceful routine for most community members. 
The pacification, announced a week in advance and facilitated by the prior arrest of a key drug kingpin, saw no shots fired and caused little damage.
Read more (in Portuguese).
* The Rio Times Daily Update is a new feature we are offering to help keep you up-to-date with major news as it happens.