By Lise Alves, Senior Contributing Reporter
SÃO PAULO, BRAZIL – The two day visit by German Chancellor, Angela Merkel, to Brazil last week proved fruitful for the South American country, with cooperation agreements being signed in the environment, food, trade and world security. Merkel visited Brazil with several of her key cabinet members, who were received by their Brazilian counterparts. Along the official entourage dozens of German executives also came to Brazil to talk about investments.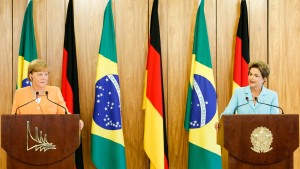 Chancellor Merkel stated during a press conference that both Germany and Brazil should take on 'international responsibilities' that could promote changes in the global scenario. "We as the fourth and seventh largest economies in the world are ready to take on more responsibilities in the reconfiguration of the (United Nation) Security Council and the challenge of climate change," stated Merkel.
The two countries also signed documents in the food security area, agreeing to promote sustainable production methods, conduct responsible agricultural investments with secure and just access to natural resources, such as land, forest and oceans.
With the upcoming United Nations Climate Change Conference being held at the end of the year in Paris, France, one of the main documents signed by officials from the two countries was a joint position on climate change. According to the two leaders, Brazil and Germany are committed to reducing deforestation, especially in the Amazon region. Cooperation agreements will guarantee Brazil more than R$ 200 million in German investments for the preservation of the environment in the South American country.
One of the projects already created by the two countries inaugurated on Saturday in the municipality of São Sebastião do Uatamã, in the heart of Brazil's Amazon forest, was the Amazonian Tall Tower Observatory (ATTO). The tower, which stands 325 meters high, will measure the emission of gases which cause the greenhouse effect in the region as well as study the interaction between the atmosphere and the biosphere. The tower is the result of the cooperation between Brazil's National Institute for Amazon Research (Inpe) and Germany's Max Planck Chemical Institute.
Other agreements signed by the two countries included projects in the administration of urban solid residues, reuse of water and recycling, as well as biogas projects in Brazil with German investments. Brazilian officials hope that the visit will render future public and private German investments in Brazil in areas such as infrastructure and energy.
Germany is Brazil's fourth largest trade partner, only behind China, the U.S. and Argentina, and the two countries register a bilateral trade of over US$ 20 billion per year. President Rousseff and Chancellor Merkel agreed to conduct presidential and high-level official meetings between the two countries every two years.