By Maria Lopez Conde, Senior Contributing Reporter
SÃO PAULO, BRAZIL – The Brazil-trained doctors participating in the "Programa Mais Médicos" (More Doctors Program) began working in 454 municipalities where health professionals are needed last Monday, September 2nd amid reports of no shows, as the controversy over the government initiative continues to mount.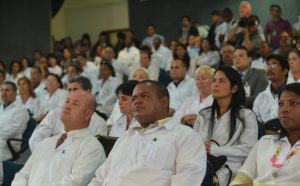 Announced by President Dilma Rousseff following the mass countrywide protests that demanded better public services in June and July, the program was designed as temporary measure to battle Brazil's chronic lack of doctors. According to the Health Ministry, there are only 1.8 health professionals for every 1,000 people in Brazil, while in neighboring Argentina and Uruguay, there are 3.2 and 3.7 for every 1,000 citizens, respectively.
The program also requires future Brazilian doctors to serve two years in public hospitals before graduating, which adds two years to the current six-year medicine curriculum. Rousseff's initiative will create up to 11,500 new spots for medicine-related careers at Brazilian universities until 2017, among others.
"Programa Mais Médicos" has already began recruiting doctors from abroad in an effort to cope with Brazil's lack of doctors, especially in the poorer northeast and rural areas where there are not enough national doctors. Bringing in foreign doctors – especially about 4,000 from Cuba, hired through an agreement with the Pan American Health Organization – has proven contentious and has elicited strong reactions from the medical community and doctors' associations.
"It's not a program, it's a political and electoral proposal that emerged to improve the President's image," João Batista Gomes Soares, president of the Regional Medicine Council of Minas Gerais, told O Estado de Minas about "More Doctors."
Soares has been one of the program's most outspoken critics, and he believes the initiative will employ doctors who are not qualified to practice medicine in Brazil and who cannot communicate with a Portuguese-speaking population. Brazil's Medical Association has already filed a lawsuit against the program in the Supreme Federal Court (STF), claiming "More Doctors" is unconstitutional.
"As if a doctor were the only agent that can solve problems in healthcare," Soares said. "Minas [Gerais] has 200 cities without doctors. But in those cities, there is also no judge, prosecutor or priest."
Another point of contention has been the fact that the Cuban doctors flown in to serve in Brazil's communities will have their R$10,000 stipend paid directly to the Cuban government. On August 27th, tensions reached a boiling point when Brazilian doctors booed and verbally assaulted Cuban health professionals as they arrived in Recife's airport.
"How does the [government] find money to fund 4,000 doctors?… Actually, they take that money from the municipality's PAC funding. Why does the money destined to healthcare end up in Cuba?," Soares asked.
All across the country, the official start of the program has been marred by the controversy, as well as several reports of absences. In the Rio de Janeiro state municipality of Duque de Caxias, which was set to receive one of the state's largest doctor contingents, only five out of the thirteen scheduled to work there showed up on their first day. Among the five, two were foreigners, one Colombian and one Portuguese. According to Veja magazine, the eleven others were from the states of Rio or São Paulo.
"A provisional measure is a law, and law must be enforced," affirmed Alexandre Padilha, Minister of Health, after participating at an event at the University of Brasília last week. The Health Minister has denounced what he deemed as the "xenophobic attitude" of Brazilian doctors and has defended the "humanitarian" merit of President Rousseff's program.
About 3,600 Cuban-trained doctors are supposed to arrive by the end of the year. Over 1,000 Brazilian doctors are also set to take part in the program.