By Lucy Jordan, Contributing Reporter
BRASÍLIA, BRAZIL – The joint committee formed to examine the provisional measure to the Forest Code approved the main text by the group's rapporteur, Senator Luiz Henrique da Silveira (PMDB-SC) on Thursday, according to a statement released by the House of Representatives (Camera dos Deputados). The 343 amendments contained in the provisional measure to the Forest Code are due to be voted on in August, after the parliamentary recess.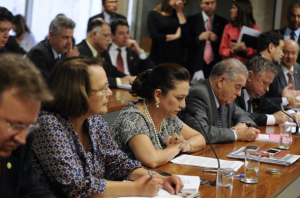 There were sixteen votes in favor and four obstructions – members who abstained from voting in an attempt to stymy the process, as a minimum number of parliamentarians are required to vote.
The provisional measure of the forest code was created to fill the gaps left when President Dilma Rousseff sent the Forest Code back to Congress in May with line-item vetoes. Congress must now review and vote on the vetoes and amendments made by the President before they become law.
Globo reported that the meeting lasted for more than six hours as the ruralistas – lawmakers representing agricultural interests – tried to delay the examination of the text and criticized the text, claiming farmers will face losses.
They gave long speeches and made requests for postponement, the newspaper reported, and Abelardo Lupion (DEM-PR), suggested an alternative text including articles that would benefit producers.
In his report, Luiz Henrique retained the rule that requires a twenty meter buffer zone on river banks for medium-sized producers of between four and ten tax modules. The ruralistas wanted to reduce this range to fifteen meters, but the rapporteur agreed only that it cannot occupy more than 25 percent of the property. The provisional measure is valid until October 8, 2012.
Read more (in Portuguese).
* The Rio Times Daily Updates feature is offered to help keep you up-to-date with major news as it happens.