By Ben Tavener, Senior Contributing Reporter
SÃO PAULO, BRAZIL – Brazilian President Dilma Rousseff promised to overhaul the country's public services and political system in response to grievances voiced by demonstrations that saw over a million people on the streets last month. Although the government was swift to address the issues raised, few tangible results have yet been seen.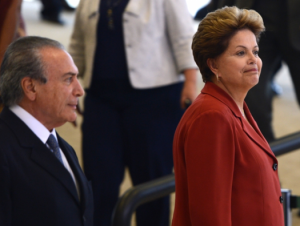 While a flurry of proposals and new laws have been brought, it remains to be seen if Congress is willing or able to enact major changes to address the country's call to task.
Some measures have been successfully passed: a hike in bus fares sparked the protests was revoked, toughening anti-corruption laws and promising vast new investments for public services bought the government extra time on other proposals.
Many of the reforms and new bills that were initially triumphantly rushed into government are now stuck in the treacle of government debate, with Brazil's sixteen-party coalition seemingly split on how to proceed.
A debate over exactly how much of the forecast pre-salt royalties should be divvied up between education and health is still being fought; plans to bring in thousands of foreign doctors have seen the sector up in arms; and there is also no decision in sight over whether election campaigns should be funded with public or private cash.
One of Rousseff's biggest gambles, plans for a constitutional assembly and plebiscite on wide-ranging political reforms – originally trumpeted as the government's most obvious way of acting on public input, has seen little progress and brought division to the government.
Other proposals also appear to b stalling, such as an initiative making it easier for the public to introduce legislation, and reducing the number of cabinet ministers from the current 39 to something less unwieldy.
It is still unclear what will happen with the countrywide protest movement that caught the government so off-guard, but Maria do Socorro Sousa Braga, a political scientist from the Federal University of São Carlos (UFSCar) in São Paulo, says two debates currently stuck in government are probably the most crucial:
"Firstly, the vote on the end of secret voting in Congress, given many of the protesters are demanding great transparency in politics, the greater the access to information on politicians' actions the more the population will feel more in control and as if their voice has been heard. Second, the vote over the destination of oil royalties to education or health, which could help placate the middle classes," Ms. Braga tells The Rio Times.
It appears likely Brazil will have to wait for any results, as Congress is now scheduled to embark on its lengthy mid-year recess, and pressure on the government is likely to dwindle even further with progress on a number of the disputed reforms being put back until August at the earliest.

———
Did you like this article? As an independent community news publisher we need advertising and reader support. Please consider making a US$10 or US$50 donation, or buy one of our new T-Shirts online (which provides US$5 to The Rio Times).
———