By Lise Alves, Senior Contributing Reporter
SÃO PAULO, BRAZIL – The federal police in Brazil announced on Thursday that officers assigned to the task force responsible for investigating exclusively the facts related to the Operação Lava Jato (Car Wash) will be reintegrated into the regular investigative grid, spending some of their time on other investigations.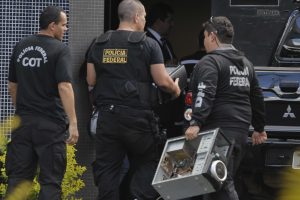 Prosecutors say that the dismantling of the task force will hinder further investigations into what is now considered one of the most widespread cases of corruption in the world.
"Politicians want to hamper our investigations. If we are not vigilant, the same thing will happen in Brazil as happened in Italy, where today it is more difficult to investigate and punish a corrupt person than it was before Operation Clean Hands," said Prosecutor Carlos Fernando dos Santos Lima, part of the Lava Jato task force in Curitiba in his personal social media account.
For Lima the announcement makes it clear that the operation now 'ceases to exist' and investigations will now be less effective in bringing to light bribes and corruption.
The country's federal police released a note stating that the end of the group and reintegration of investigators to the regular corruption combat unit is to 'prioritize even further the investigations of greater potential of damage to the Treasury, allowing the increase of specialized personnel in the fight against corruption and money laundering and facilitating the exchange of information'.
Brazil's President Michel Temer, in Hamburg, Germany to attend the G20 meeting, did not comment on the announcement, trying instead to focus on economic gains achieved by the country in the past months.
"Brazil is overcoming one of the most serious crises in its history, thanks to an ambitious reform agenda that brings growth and jobs back. Faced with our problems, we have chosen the most responsible path we have built in constant dialogue with the National Congress and with society as a whole," he said.
Many of Temer's aides and closes allies have been linked to corruption cases inside the Lava Jato Investigation. Temer, himself, is the subject of a Congressional inquiry, after being recorded sanctioning bribes to former Congressional representatives.