By Sam Cowie, Contributing Reporter
RIO DE JANEIRO, BRAZIL – 2011 saw Brazil take the fight against corruption to a new level – with huge increases in the recovery of stolen funds and seven high-ranking members of President Dilma Rousseff's administration dismissed following allegations of corruption, since she took office in January 2011, Brazilian Labor Minister Carlos Lupi being the latest.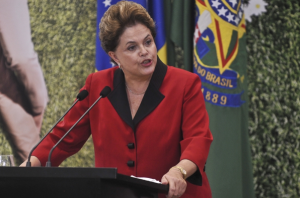 In August President Rousseff said: "It is my duty as President of all Brazilians to see an end to the impunity which shelters many of those accused of involvement in corruption practices," and added: "We will punish all abuses and excesses."
Brazil's Attorney General's office says it has filed 2,343 civil suits in an attempt to recover R$1.2 billion in public funds from politicians, public servants and private companies. The agency said in a press release Friday that 664 suits involve current and former mayors and 429 are against current and former public servants.
2011 has seen a 150 percent increase since 2007 in the amount of stolen funds recovered. Yet this 'record' high retains only 15 percent of revenues stolen.
Brazil hopes to retrieve 25 percent of diverted funds by 2016. However, officials maintain it takes about seven years to recover funds. Corruption and a culture of impunity, amongst high ranking officials especially, remain endemic according to critics.
Brazil's corruption perception indicator by Transparency International places the Latin American giant at 73, third place in the South America, behind Chile and Uruguay. The number of trials against corrupt officials reaching a final verdict within a year remains extremely low, especially in cases of fraud is against the state.
Last year the Brazilian courts produced only 416 final judgments in corruption crimes and 547 cases of money laundering – about ten percent of the average that is in the U.S. court system each year.
Corruption charges account for 56 percent of reasons why ministers step down from office. From January to November were driven 311 servers – one a day – mostly in the Ministries of Welfare, Education, Justice, Treasury and Health.
Together, the courts of the richest states (São Paulo, Minas Gerais and Rio de Janeiro) have only 801 cases of corruption in progress. Manoel Rebelo, President of the Court of Justice, explains: "The truth is that we have an endless amount of legal procedural options."
Politicians and senior bureaucrats continue to form an absolute minority of those facing prosecution – which some accuse is a reflection of the predominant influence of the state elites.
Jorge Hage, Minister of the Office of the Comptroller General (CGU) notes: "It is almost impossible today to see a legal process come to an end in Brazil. A good lawyer can delay a sentence for ten or twenty years. And it is precisely the white-collar criminals – not the common criminals – who can afford the best lawyers."
A frustrating case-in-point is last Monday, courts placed an order to sue Carlos Alberto Barros da Silva, a former mayor, for the R$4.3 million he had taken out of student lunch fund in 1998. I was enough money to feed 16,000 students for two years according to reports.
Prosecutors suggest the chances of justice are slim, at age 67, the former mayor is in no danger of arrest. The fear is he will age comfortably while battling courts, using the arsenal of legal procedures available for a long, drawn out defense.