By Lise Alves, Senior Contributing Reporter
SÃO PAULO, BRAZIL – The Brazilian judge who authorized on Monday (September 18th) psychologists to treat homosexuality stated on Thursday that the authorization does not mean that he sees homosexuality as a 'disease' or 'disorder. According to the judge the order was simply to allow therapy to those seeking such methods.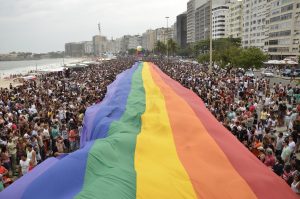 "At no time did the magistrate consider that homosexuality was a disease or any type of psychic disorder that could be treated," said Judge Waldermar Cláudio de Carvalho, of the 14th Federal Court in Brasilia.
Judge Carvalho has been getting waves of criticism about his decision to accept an injunction by three psychologists against the Federal Council of Psychology and allow them to perform 'conversion therapy' on homosexuals.
"Reversal, conversion, healing, or sexual reorientation, as the practice has been called, has been rejected by health and ethical systems of several countries since the 1970s," says Christian Dunker, psychoanalyst and professor at the University of São Paulo (USP).
"They have recognized that attempting to cure homosexuals is not only innocuous, but it worsens the people's suffering by feeding promises that increase their suffering and feelings of inadequacy toward themselves," concludes Dunker.
Since 1999 the Federal Council of Psychology has prohibited any therapy, which involves conversion or re-orientation techniques, finding, they represent a violation of human rights and have no scientific basis.
"We consider a huge setback the need to reaffirm, in the 21st century, that homosexuality is not disease, disorder or perversion," said the note released by the Council after Judge Carvalho's decision.
Brazil's artistic community also came out full strength against the decision, with social media being inundated by memes and criticism about what is now being called 'gay cure' option.
"Sick people are those who believe in this great absurdity. People, think about what this misconception is, absorb the courage and struggle of homosexuals and apply to their moldy and lifeless lives. Try that you can maybe be happy," stated Ivete Sangalo, one of Brazil's most popular singers on her social media account.