By Lise Alves, Senior Contributing Reporter
SÃO PAULO, BRAZIL – Nearly 1,400 Brazilian doctors with foreign diplomas were admitted into the Mais Medicos (More Doctors) program on Tuesday (October 3rd), as Brazil's government tries to substitute foreign doctors in the program for Brazilian ones.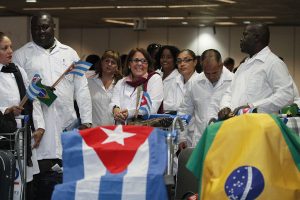 Recently Cuban doctors finishing up their time in the program filed petitions with the Brazilian courts to try to remain in the country or to get their full wages.
"This moment is important for Brazil and Brazilians. We are advancing and I am sure we will offer more quality in health and basic care with the participation of these new professionals in the program Mais Medicos," said Health Minister Ricardo Barros during the admissions ceremony.
According to the Ministry of Health, Brazilians now represent 45.6 percent of the total number of doctors participating in the program created in 2013 by the Rousseff Administration to extend primary care assistance in areas with a shortage of medical professionals..
Currently 47.1 percent of the doctors are foreigners, due to a cooperation agreement with PAHO (Pan America Health Organization), and the other 4.16 percent are foreign exchange students.
Local media outlets, however, report that dozens of Cuban doctors in the program, however, have filed petitions in Brazilian courts to break the contract between the Brazilian and Cuban governments.
The petitions filed by Cuban doctors ask to either remain in Brazil practicing medicine after their contract with the program is terminated or to receive their full salaries while still in the program.
According to these Cuban doctors working in Brazil, a great part of their salaries go to the Cuban government, leaving little to send home to family members and to live on in Brazil. According to reports by Folha de S. Paulo, Cuban doctors receive only one-fourth of what the Brazilian government pays the Cuban government for their services.
"There are around 150 (legal) actions in which Cuban doctors ask to stay in Brazil, because after the three-year cycle, they must return and be replaced by other professionals," Minister Barros is quoted by O Globo as saying in Washington last week after a meeting with PAHO and Cuban officials.
According to Barros, Brazilian courts have been 'successful' in overturning the injunctions obtained by these professionals to remain in Brazil 'outside the conditions of the contracts established with PAHO'.
Officials say the Brazilian government's contract is with PAHO. Brazil's government pays the international organization, that passes on the doctor's wages to Cuban authorities, which in turn pays the doctors.
Data from the Ministry in 2016 shows that over 11,000 Cuban doctors were under contract in the Mais Medicos program. With the end of some of the three-year-contracts, officials expect that number to drop to a little over 8,000 at the end of 2017.
In all 18,000 medical professionals are part of the program. Mais Medicos is present in more than 4,000 municipalities and thirty-four indigenous territories, and provides assistance to approximately 63 million Brazilians, according to officials.