By Lise Alves, Senior Contributing Reporter
SÃO PAULO, BRAZIL – A survey released on Wednesday, June 3rd, by Brazil's Secretary General's office confirmed showed that the country's prison population grew by 74 percent between 2005 and 2012, totaling more than half a million detainees. Brazil today has the fourth largest prison population in the world only behind Russia, the U.S. and China.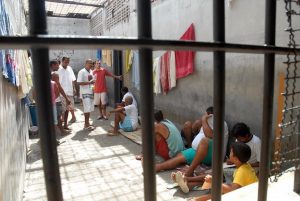 Very recently Brazilians were shocked with images of decapitated heads of inmates from the Pedrinhas Prison and the living conditions at the penitentiary in Maranhão state. Brazilian prisons have been the stage for violent rebellions for years, with overcrowding being the rule and not the exception.
The study released Wednesday, Mapa do Encarceramento: os Jovens do Brasil (Incarceration Map: the young people of Brazil) shows that almost 38 percent of those incarcerated have not yet been tried and almost half (48 percent) of those convicted received sentences of up to eight years.
The study also shows that in a overcrowded system '18.7 percent need not be imprisoned since due to their profiles they would be eligible for alternative sentences due to the Penal Process Code'.
According to the survey the rise in the prison population was boosted by the increase of young people, blacks and women behind bars. The data obtained from the Integrated System of Penitentiary Information (InfoPen), an agency linked to the Ministry of Justice, shows that approximately 54.8 percent of Brazil's detainees are young people.
An analysis of the 'map' also shows that the states with the most arrests do not necessarily register the lowest crime rate. "An analysis of imprisonment rates and homicide rates by state indicates that more imprisonments do not necessarily reduce crimes against the life of individuals, since policing policies focus on crimes against property and drug crimes," concludes the survey.