By Lise Alves, Senior Contributing Reporter
SÃO PAULO, BRAZIL – As worldwide reaction started to appear in the global media on the stunning victory of Donald Trump for the presidency of the United States, Brazilian officials also spoke up on Wednesday about possible changes in the trade relations between the two countries. While some voiced concern about some of Trump's campaign promises, others celebrated the result.
At a news conference in Brasilia, Brazilian foreign minister Jose Serra said that he hoped that the economic protectionist stance demonstrated by the American president-elect during the campaign would not materialize.
In an official release, Brazil's Foreign Affairs Office (Itamaraty) reiterated its desire to maintain close ties with the United States. "These two great nations of the Americas share similarities that value and guide bilateral relations. We are multiethnic societies, inspired by democratic values and respect for human rights, in search of prosperity, freedom, justice and dignity for all," said the statement.
Brazil's Industry, Foreign Trade and Services (MDIC) Minister, Marcos Pereira, admitted however that the protectionist speech of the new president of the United States, is somewhat worrisome. "That's a concern, yes. He [Trump] has debated this theme a lot, he has expressed himself over and over on the subject," he told reporters after an event at the Federation of Industries of Rio de Janeiro (Firjan).
Minister Pereira, pointed out, though, that this increased protectionism is not an 'American invention' but rather a global issue. "The increase in protectionism that has been seen in some countries in recent times is an issue being discussed in the WTO [World Trade Organization], the BRICs (Brazil, Russia, India and China) and the G-20.
With the position of the president-elect in the US, protectionism should gain more relevance at the discussions in international organizations," he said. Nonetheless, the official said he hoped, despite the expected slowdown in bilateral accords, negotiations will 'move forward and not backwards'.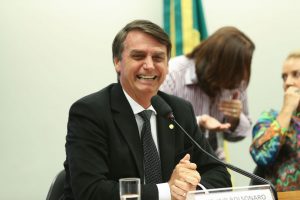 According to the MDIC the United States is Brazil's second largest trading partner receiving approximately 20 percent of Brazilian exports and totaling in 2015 US$24.2 billion.
For Brazilian officials, the relation between the two countries, at times strained during the Rousseff Administration, may actually improve. Foreign Affairs Minister Serra, noted that unlike other Latin American countries the current Brazilian administration did not take sides during the US presidential campaign.
"Brazil did not campaign for Clinton or Trump. The fact that Brazil was not in the middle of the clashes in the campaign is positive," he told reporters.
And while a few in the Temer Administration are apprehensive about the new president-elect and his administration's stance towards his South American neighbor, some Brazilian legislators rejoiced. Right-wing Congressional representative and an ex-candidate for mayor for Rio de Janeiro , Jair Bolsonaro, wrote on his social media page:
"Congratulations to the American people for the just, sensible and well-deserved election of Donald J. Trump. The best wins, the patriot, the one who fought against everything and everyone. In 2018 Brazil will be on the same path." According to Bolsonaro, he and Trump are a lot a like. "I believe in many of his proposals," he said in a radio interview on Wednesday. "He is a lot like me…. he hates the politically correct."