By Lise Alves, Senior Contributing Reporter
SÃO PAULO, BRAZIL – Just five days away from another milestone that could lead to the end of her presidency, Brazil's Dilma Rousseff received another blow in her struggle to remain in office. Two of her most important allies, the PP and PRB parties announced on Tuesday they were withdrawing from the government coalition.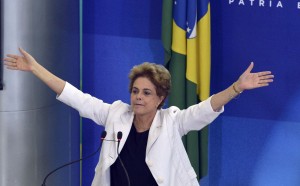 The two parties combined have 67 representatives in the Chamber of Deputies, who will now vote for the impeachment of the president, when the vote is cast on Sunday, April 18th. After the PMDB left the coalition the PP became the government's largest allied party in Congress.
Earlier on Tuesday President Rousseff thanked the 27 representatives from the special commission who voted on Monday against a report which called for her impeachment, calling them 'heroes of democracy'. The report was approved by the commission by 38 to 27.
"They are 27 heroes of democracy who had the courage to vote against the report, an instrument of fraud," she said adding that she applauded them for their 'firm attitude in rejecting the stepping down of a president who has not committed a crime of responsibility, honoring democracy and the Constitution'.
Rousseff also criticized her Vice-President Michel Temer and Speaker of the House Eduardo Cunha. Without specifically stating their names she called them the 'leaders of the coup'.
"If there was any doubt about the coup, the farce and betrayal in progress, there is no more. If there was any doubt about my assertion that there is a coup in progress, there may be no more," said Rousseff alluding to the leaked WhatsApp conversation where VP Temer seems to be practicing his first public address after taking over the presidency.
Temer has admitted making the recording, stating that he inadvertently sent the message to more people than he planned. In an interview to GloboNews on Tuesday night Temer said he did not speculate about Rousseff's future, but that he would be ready to take over the Presidency if Congress impeached her.
Sunday the entire Chamber of Deputies will vote whether or not to accept impeachment proceedings against President Dilma Rousseff. If 342 of the 513 representative approve the impeachment charges, the process will go to the Senate in early May.