By Lise Alves, Senior Contributing Reporter
SÃO PAULO, BRAZIL – Shunning away from the traditional speech always given on national TV on International Workers' Day, Brazil's President Dilma Rousseff announced this year she would be speaking to the population through social media on May 1st. Through her Facebook account, Brazil's President wrote of the accomplishments of her government in relation to workers' rights, especially when it comes to the minimum wage.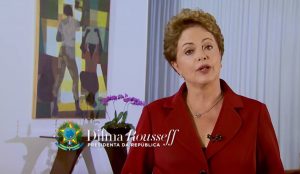 "In March of this year I sent to Congress a bill which would guarantee minimum wage increase policies until 2019," she told followers on her Facebook page. In the one-minute video Rousseff also said that the minimum wage had increased more than fourteen percent over inflation during her first term as president. According to Brazil's leader more than 45 million workers and pensioners are benefitted from these policies.
While critics say that Brazil's leader is afraid of a repeat performance of the nationwide pot-banging episode that occurred the last time Rousseff spoke on national TV, the president's communication officer stated that Rousseff was trying new venues from which to talk to Brazilian workers.
On Thursday, April 30th, Rousseff met with representatives from Brazil's largest workers unions and guaranteed that the measures taken by her government to combat the current economic turbulence would in no way affect rights of workers. "The [international] crisis led to a set of measures, but it is important to note that we have maintained workers' rights, social security rights and social policies," said the president during a meeting.
President Rousseff also announced during the meeting the creation of a multi-sector forum to discuss government policies related to employment, job market and social policies. In her Twitter account, Rousseff wrote "The appreciation of the minimum wage is one of the greatest achievements of workers in the last thirteen years."
While Rousseff tries to live up to the PT (Workers' Party) founding principles, to govern for the people/workers, the tight fiscal measures adopted by the administration's financial team to combat rising inflation has led to an increase in unemployment rates and an increased support by Brazil's legislature to pass a bill which would authorize ample outsourcing of labor in private companies. Rousseff has publicly stated that her government is not against the bill but concerned that items in the document would "reduce workers' guarantees to rights already conquered".
According to analysts the government is also worried about possible losses in revenues which maintain the country's social security system. "It is urgent and necessary to regulate outsourcing, so that millions of workers maintain their workers' rights and decent wages," Rousseff said. The bill to expand outsourcing has been approved by the Chamber of Deputies and is now being discussed in the Senate.
As the President was speaking to union representatives, Senate president, Renan Calheiros, met with Congressional members and proposed the creation of a pact between the public and private sectors to maintain and create jobs. According to Calheiros the government needs to establish employment targets and not only inflation targets. "There is nothing worse than paralysis, than lack of initiative, than doing nothing," said the senator.