By Lise Alves, Senior Contributing Reporter
SÃO PAULO, BRAZIL – Health officials in Brazil continue to monitor closely the current outbreak of yellow fever in several states in the country. The latest data from the Ministry of Health shows over 2,000 suspected cases and at least 162 reported deaths. The outbreak is already considered the largest in Brazil since 1980, when the Ministry began gathering data.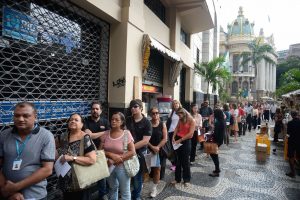 The Ministry of Health announced this week it was authorizing an extra R$19 million to be used in the vaccination of the disease in the affected states.
"Since the beginning of this year, the Ministry of Health has sent extra doses of the yellow fever vaccine to states that are registering suspected cases of the disease, as well as others located in the border with areas that have reported cases." said a press release by the federal entity.
Adding, "In total, 18.88 million extra doses were sent to five states: Minas Gerais (7.5 million), São Paulo (3.93 million), Espírito Santo (3.65 million), Rio de Janeiro Million) and Bahia (1.4 million)."
The most affected state so far has been Minas Gerais where 57 cities have confirmed transmission of the disease and another 97 have suspected cases. Officials have confirmed 137 deaths due to yellow fever and are investigating another 64 suspected cases.
In Rio de Janeiro state, authorities are trying to vaccinate the greatest number of people, giving priority to those who will travel during the Easter holidays to wooded areas in Minas Gerais and countries where yellow fever is still present.
This past week the state's health department confirmed a sixth case of yellow fever, five from Casimiro de Abreu, in the interior of Rio de Janeiro in an area that stretches inland between Buzios and Macaé and another from São Fidelis, about 100km from Casimiro. One person has had their death confirmed due to yellow fever in the state.
Due to the cases and the proximity with cities in Minas Gerais which registered the first outbreaks, the Rio government has started a massive state-wide vaccination program.
In Salvador, Bahia, the state's health department announced on Wednesday another 400,000 additional doses of the vaccine in the after confirming the yellow fever infection in four monkeys in the capital.
According to health officials it will be necessary to immunize 1.7 million people in Salvador. Officials, however, report that, to date, no cases of yellow fever have been detected in humans in the state.