By Ben Tavener, Senior Contributing Reporter
RIO DE JANEIRO, BRAZIL – A fire that claimed the lives of 235 people in a nightclub in Santa Maria, Rio Grande do Sul state in Southern Brazil, has led to an investigation into whether fire prevention regulations under Brazil's health and safety laws are fit for purpose, and whether local authorities are complying with existing legislation.
Marco Maia, President of Brazil's Chamber of Deputies, has said he will order a review of all existing safety legislation for venues, including nightclubs, and although he acknowledged that the issue was a matter for municipal authorities, he said federal legislation could be established.
"My aim is to look at all existing legislation and suggest that there be Brazil-wide legislation with minimal safety requirements that should be adhered to by all the states and municipalities," Agência Brasil reported Maia as saying.
Operating licenses, issued by the local fire departments, are obligatory for a range of venues, including theaters, clubs, bars, restaurants, gyms and religious buildings. In the aftermath of the incident in Santa Maria, it was revealed that the club's operating license had expired in August 2012, although the owner has since told police that he had already started applying for a new one.
Many questions have yet to be answered, but the repercussions are already being felt nationwide: a number of cities have ordered that all nightclubs be urgently re-inspected, including Rio de Janeiro, São Paulo and Brasília. Fire authorities in Rio de Janeiro have said they will step up checks and hunt down those without license.
Wengrover Carlos Rosa, coordinator of the Brazilian Committee on Fire Prevention and Safety, told G1 News that nightclubs must have clearly signed emergency exits, fire extinguishers and emergency lighting, and have their license on display.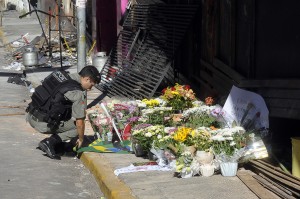 "Smoke extraction systems and fire alarms are already mandatory in São Paulo and Rio de Janeiro and could have contributed to the safety of the [Kiss] nightclub."
American expatriate Sam Flowers, who owns the Gringo Café in Ipanema, explains that the cost of a license is low and requires an inspection. "Once the license is issued, the renewal process is relatively straightforward, although certain circumstances, such as a change of ownership or major renovation works, will mean a thorough update is required."
Local businesses say an increase in enforcement, particularly for bars and clubs, has been noted in recent years in Rio, and have even led to closures. An October 2011 gas explosion at a restaurant in Rio's Centro district left three dead and seventeen wounded, and was followed by prompt inspections of existing codes.
American expatriate and DJ in Rio, Mike Frugaletti – who is also The Rio Times Nightlife Guide Editor – feels that clubs in Rio are safe and that most have sufficient emergency exits: "I feel safe DJing and attending clubs in Rio, and have never been to a show where they used pyrotechnics."
The blaze, which started after a flare set light to sound-proofing material on the club's ceiling, was the second deadliest in Brazil's history. Some 503 people died in a fire at the Great North American Circus in Niterói, Rio de Janeiro state, in 1961.