By Lise Alves, Senior Contributing Reporter
SÃO PAULO, BRAZIL – This will be a decisive week for top executives at Brazil's oil giant Petrobras, say analysts, as additional reports reveal that directors and even the company's president, Maria das Graças Foster, have known for years that some of the company's key directors were receiving bribes.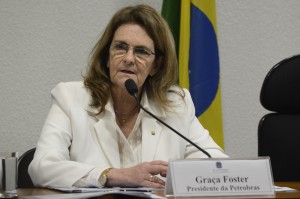 On Friday financial daily Valor Econômico reported that a former Petrobras manager, geologist Venina Velosa da Fonseca, had written e-mails as back as 2008 accusing the company's Refining and Supply Department of over-billing and paying for services not rendered.
In 2011, Velosa da Fonseca is said to have e-mailed Graça Foster (then director of Gas and Energy) about the problems. The former employee was transferred to Singapore in 2010 and in November of 2014 was fired without explanation.
News TV channel Globonews reported that Graça Foster last week suggested to Brazilian President Dilma Rousseff the substitution of the entire board of directors, including herself, but that the President had given no signs she was willing to replace the company's top executives.
According to political analysts interviewed by local media, Rousseff will try to hold off the replacement of Petrobras executives for the beginning of 2015, when she is also scheduled to announce her new cabinet. That, according to these analysts, would be a way to downplay the allegations that Graça Foster knew about the corruption before Brazil's Federal Police revealed the Lava Jato (Carwash) scheme in March of 2014.
As weeks pass, however, and more details are revealed, pressure within the Rousseff administration also increases. Last week, during a speech at an International Anti-Corruption Conference in Brasilia, Rodrigo Janot, Brazil's current General Prosecutor, said that due to the 'disastrous' administration of Petrobras what society expects is a complete and thorough investigation of the allegations of money laundering and corruption and 'the substitution of its board of directors'.