By Lisa Flueckiger, Contributing Reporter
RIO DE JANEIRO, BRAZIL – From August 2014 until January 2015 alerts regarding deforestation in Brazil's Amazônia region have grown by 90.5 percent in comparison to the same period in the years before. The affected area rose from 1,162.7 square kilometers to 2,215.5 km².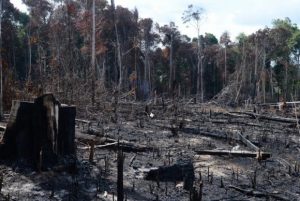 The National Institute for Space Studies (INPE) has collected the data from its Real Time Mapping Detection System, DETER, and released them this week on March 2nd.
DETER checks the cover of the forest and can detect areas of deforestation larger than 25 hectares and will alert the Brazilian National Environmental Institute, IBAMA to enter in action on the ground.
The system had detected 77km² to be verified in November 2014, 85 km² in December and in January 2015 the system alerted an area of 129km² to be checked. Before, in August, September and October of 2014 the alerts had covered 890 km², 736 km² and 298 km² respectively.
Clouds, fog and rain can hinder the detection of deforestation by the satellite system leading to fewer alerts.
Mato Grosso was by far the state with the most deforestation between November and January, followed by Pará and Rondônia. The Amazônia region is made up of nine states: Acre, Amapá, Amazonas, Maranhão, Mato Grosso, Pará, Rondônia, Roraima and Tocantins.
In the previous period from August 2013 to January 2014 alerts had decreased by nineteen percent in comparison to the year before that. And from August 2013 to July 2014 verified deforestation had fallen by eighteen percent.
A relief for Amazonia however, was the arrest of the so-called 'deforestation king' Ezequiel Antônio Castanha last week. Castanha known as responsible for heavy deforestation along the northern stretch of the BR-163, one of the main roads in the area, was forced into hiding by Brazilian authorities in August 2014.
Mr. Castanha is said to be responsible for up to twenty percent of deforestation of the region. He is currently being held on charges of illegal foresting and money laundering and could be sentenced to up to 46 years in prison, if convicted. He already owes IBAMA US$16 million in fines for deforestation.