By Lise Alves, Senior Contributing Reporter
SÃO PAULO, BRAZIL – This past weekend 6.3 million people took the Exame Nacional do Ensino Medio (National High School Exam). The annual two-day exam, known as the ENEM, tested the candidates' knowledge of the sciences, math, social sciences, Portuguese and a foreign language. This year 8.72 million registered to take the exam, with 2.4 million not showing up at testing stations – a 28.65 percent absence rate.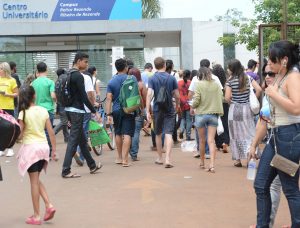 The exam was originally created to assess the quality of education obtained by graduating high school student but is now used as an entrance exam for higher education facilities. The ENEM, says educators, has become Brazil's equivalent to the U.S.'s SATs or the UK's A-Levels.
"Only approximately twenty percent of those who take the test are graduating from high school," says Alejandra Meraz Velasco, general coordinator for the non-profit organization Todos Pela Educação (All for Education). "Ten percent are seeking high school equivalency certificates and the other seventy percent are seeking a spot at an university."
According to Velasco as an assessment of Brazil's high school educational system, its original objective, the ENEM has many deficiencies. "Since 2010 the exam has become less focused on concepts and rational thinking and has become more content specific, with the objective of seeking out the better students. There is no longer the broad range of questions which can serve as a measure for us to analyze Brazil's educational system as a whole, looking at all students, from those who do very well to those who are below average."
Although Velasco says that the ENEM is not a good tool to measure the quality of high school education in Brazil as a whole, she does admit that the exam has made getting into a public federal university in Brazil more democratic. "It gives good students in the poorer regions of the country the chance of getting into a good university in another part of Brazil. A chance they would not have if they had to travel to another part of the country to take the entrance exams."
While the exam has not been adopted universally, all federally funded universities (which are free) now use the ENEM scores to accept students into their halls of learning. Many state and privately owned universities are also using ENEM scores as the first hurdle to approve students.
In October, during her re-election campaign, President Dilma Rousseff exalted the egalitarianism of exam. "It opens up the possibility of one having access simultaneously to almost four thousand (university) degrees. In the past only those with resources to pay for an air ticket or bus ticket could do this (take university entrance exam in another part of the country)."
In addition to allowing access to all federally-funded universities, the ENEM is today also used to determine who will obtain scholarships for the Programa Universidade para Todos – ProUni (University for All Program) or be allowed to participate in the Ciencia sem Fronteiras (Science without Border) program which funds the studies of Brazilian undergraduate and graduate students abroad.