By Jay Forte, Contributing Reporter
RIO DE JANEIRO, BRAZIL – In a housing complex in the Fazenda Botafogo area in Zona Norte (North Zone) a suburb of Rio de Janeiro, an explosion killed five people and left thirteen injured. The injured were taken to three hospitals: Getúlio Vargas in Penha; Carlos Chagas, in Marechal Hermes, and Albert Schweitzer in Realengo.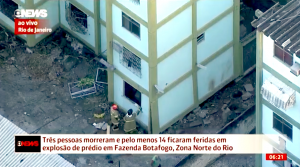 According to government sources, the accident was caused by a leak in the Companhia Distribuidora de Gás do Rio de Janeiro (CEG) gas pipe, the supplier of gas access in Rio.
The gas accumulated in the basement, and the explosion occurred shortly after 5AM today (April 5th). Apartments at the ground floor of the block where the explosion happened were totally destroyed and other units, including neighboring buildings were also affected.
According to the Civil Defense, the initial survey done in the building showed that there is no risk of collapse of the structure. Firefighters and Civil Protection continue working on site.
In a report by O Globo news, Luiz Guilherme Pereira de Oliveira, 27, lives near the building and lost his parents, who lived on the first floor of the building. "I was asleep and I heard a little noise, but I thought I was dreaming. A neighbor woke me up and I ran to my parents' house. They lived on the first floor."
The same report indicates that the gas company had known about the leak, and Pereira de Oliveira said, "CEG knew that was leaking, but a team that came here said it was a small leak and that it was normal. Now see what is a normal leak. I honestly do not know what I'll do."
Although not common, just last October an explosion occurred just blocks away from Rio's famous soccer stadium, Maracanã, and from one of the city's most popular tourist attraction, Feira de São Cristovão. Another gas leak is said to be the cause for the explosion which destroyed a residential building in Rio de Janeiro's São Conrado neighborhood last May 2015.
In 2012 three buildings collapsed in downtown Rio, killing five people. The accident was blamed on the unauthorized construction of an extra floor in one of the buildings. In October 2011 a restaurant exploded in the center of Rio, killing three people. A gas leak and poor maintenance were blamed for the fatal blast.