By Andrew Willis, Contributing Reporter
RIO DE JANEIRO, BRAZIL – In the latest development in a long-running dispute over 'irregular' housing, the Brazilian Court of Audit (TCU) ruled last week that families living inside Rio's Jardim Botânico (Botanic Garden) have up to thirteen months before they must leave. The namesake of one of the most affluent neighborhoods in Zona Sul (South Zone), Jardim Botânico residents on both side of the issue continue to press for a resolution.
As part of this timeline, the Botanic Garden and The National Institute of Heritage and Art (Iphan) have two months to define the garden's boundaries, after which they must be formally recorded in a registry office, something currently not the case.
"It is a very important decision, historic," said TCU judge Valmir Campelo who led the case. "If the deadlines set by us are not met, we will find out who is to blame."
Roughly 620 families currently live within the boundaries of Rio's Botanic Garden, a throwback to the last century when garden officials decided that employees could construct their own homes in the "Horta" area near the garden's northern periphery.
In 1975, a survey identified 377 families living within the garden, with this figure swelling to 621 by 2010. Only an estimated five percent of dwellings are currently occupied by garden employees and their families.
Horta residents have experienced forced repossessions in the past and have repeatedly campaigned for a regularization of their position. Two years ago the government's Department of Heritage of the Union (SPU) requested a suspension of these foreclosures, leading to greater frictions with Botanic Garden's administration.
The garden's president, Liszt Vieira, said the court's decision last week was hugely important in maintaining the integrity and preservation of the park. "The TCU has left clear that the proposal to regularize land holdings was illegal," he said.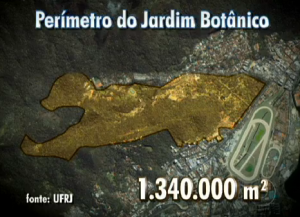 At the same time, The Horto Residents Association said it would appeal the decision. "I just do not see who is interested in kicking the poor out of [Rio's] Zona Sul," said the association's president Emília Maria de Souza, adding that resettlement to an area nearby is likely to be full of complications.
Property prices in Jardim Botânico around the 140-hectare Botanic Garden – founded in 1808 by King João VI of Portugal – are among the highest in Rio de Janeiro. Certainly relocation will be some distance away from where the housing is now.
Alfonso Stefanini, an American expatriate and environmental consultant who lives in Jardim Botânico, stressed the importance of maintaining a biological corridor between the garden and the Floresta de Tijuca National Park, something that is currently threatened by the irregular (squatter or favela) housing.
"According to O Globo, only five percent of the residents today are descendants from the original [Botanic Garden] workers. People hide behind this five percent group rights and claim that they are entitled to be there."
Stefanini continues though by explaining that political decision-making is partly to blame for the current imbroglio: "Unfortunately, there have been no public housing policies in Brazil for years. Poor families were left to their own devices to find living solutions, and this meant squatting in public areas of hillsides, forests and baixada fluminense."
Authorities at the moment are acting in the interest of preserving the Botanic Garden. "It would be unthinkable to imagine that public areas like Hyde Park in London, Central Park in New York or Bois de Bologne in Paris could be the target of a similar attack," TCU judge Walton Alencar Rodrigues said during his analysis of the case.