By Mira Olson, Contributing Reporter
RIO DE JANEIRO – January 30th will mark two months of police presence in Cantagalo and Pavão-Pavãozinho, the favelas straddling the mountainous terrain between Ipanema and Copacabana, as part of the government's new pacification strategy to target drug and arms trafficking in Rio de Janeiro.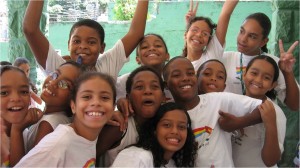 Employees of Solar Meninos de Luz affirm that police presence in the community is yielding positive results. "Heavy arms trafficking doesn't exist anymore. It simply feels calmer here," states Carlos Poyart (40), volunteer coordinator and percussion instructor at Solar.
The NGO began providing social assistance in the community 25 years ago, and has been operating in its current capacity since 1991. It offers day-care, primary and secondary schooling, counseling and a wealth of extra-curricular activities to vulnerable at-risk children and youths in Cantagalo and Pavão-Pavãozinho. Its aim is to offer these individuals an alternative future to that of criminality, alcoholism and teen pregnancy.
According to Poyart, pacification is facilitating the efforts of social programs like Solar in Rio's favelas: "now kids who can't afford to go to school, don't look around and see the guy with the machine gun. He's not there anymore, so he doesn't become a super-hero to these kids."
After initial occupation by the Special Police Operations Battalion (BOPE) at the end of November, the Unidade de Polícia Pacificadora (Police Pacification Unit, or UPP) was instated on December 23, 2009 and set up a permanent base in Cantagalo/Pavão-Pavãozinho.
This was the fifth UPP established; now seven communities have been pacified, and 100,000 residents—or ten percent of the population living in Rio's favelas—are no longer living under the domain of armed drug trade. The government intends for this number to reach thirty percent by the end of 2010.
Cantagalo and Pavão-Pavãozinho had been under the control of drug trafficking for over thirty years, so it may take a while before community residents become accustomed to and trust UPP presence. Nevertheless, progress has undoubtedly been made. In their first twenty days the BOPE apprehended 38 grenades, seventeen weapons, ten kilos of cocaine, and 160 rocks of crack; last Friday the UPP discovered and confiscated a large number of hidden weapons. In Ipanema the number of bus robberies has dropped and real estate prices both outside and inside the favelas are rising.
Cantagalo and Pavão-Pavãozinho residents are reluctant to talk about how the pacification process has affected life in the community. Several Solar alumni interviewed refused to comment on the situation; according to one student who wishes to remain anonymous, "for the people that live here it's difficult to pass on any type of information, as we fear that we will somehow become compromised."
Although unconfirmed by residents interviewed, Projeto de Segurança de Ipanema (Ipanema Security Project) reports that the drug lords have threatened death to any community member that collaborates with the UPP.
Solar administrators expect to see the impact of pacification in their students when classes resume on February 8th. The organization targets children with the highest risk of becoming involved in the drug trade. Generally these kids, who begin the Solar program as infants, come from families that are directly involved in trafficking or that have a history of drug or alcohol abuse.
Solar is divided into three programs to address this risk: Prevention, which targets the children directly through formal and complementary education; Family, which provides social assistance, monthly parent meetings and recreation to induce parents to continue Solar's work in the household; and Community, which offers courses and recreational spaces to community members. Currently Solar serves 380 students, with its total outreach affecting over 5,000 individuals.
For further information on Solar Meninos de Luz and to learn how to donate or become a volunteer, visit the website: http://www.meninosdeluz.org.br