By Lisa Flueckiger, Contributing Reporter
RIO DE JANEIRO, BRAZIL – Data released by the Institute for Public Safety (ISP) on Monday, February 23rd showed that while fewer murders were committed in January 2015 compared to the first month of 2014, robberies of various types as well as violence against the police were on the rise in Rio de Janeiro.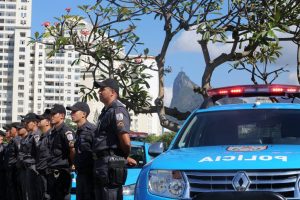 The number of murders fell from 464 to 442, while attempts for murder rose by 11.5 percent from 557 cases to 621. In the same time, deaths caused by police interventions, classified as resisting arrest, grew by 28 percent and stood at 64 cases, fourteen more than in 2014.
Crimes involving property were mostly on the rise. Cellphone robberies almost doubled from 473 cases to 920 (an increase of 94.5 percent). Theft increased by 49.9 percent from 489 to 733 incidents. Robbery of passersby remained high, rising from 6,625 to 6,978 cases, an increase of 5.3 percent, as well as robberies in buses that rose by 8.6 percent and reached 719 incidents.
On the other hand, violent crimes such as rape, assault and robberies resulting in death saw their numbers reduced. Cases of rape fell by 12.6 percent to 485 incidents, the numbers of assault decreased by 14.4 percent (from 9,050 to 7,747 incidents) and robberies resulting in death fell from fifteen cases to eleven.
Also falling were numbers of extortion that sunk by 19.7 percent in January 2015 compared to January 2014, while burglaries decreased by 16.7 percent and robberies in commercial establishments were reduced by 14.2 percent. Car thefts also fell by 10.3 percent.
While the police arrested more minors (increase of 37.7 percent) and seized more weaponry (16.4 percent), they also suffered more losses to their troupes. While in January 2014 no policemen had died, three had to give their lives in January 2015.
And recently, on the weekend around the 21st of February alone, four policemen and one municipal guard were killed and four policemen injured in Rio's Metropolitan region within only 24 hours.
Rio governor Luis Fernando Pezão has promised to take actions. "I am against violence against any citizen, but we can not let the officers die like that and do nothing. I will push Congress to create laws that guarantee more severe penalties. And we will also hire 6,000 additional policemen in Rio."