By Benjamin Parkin, Senior Contributing Reporter
RIO DE JANEIRO, BRAZIL – On Monday afternoon (July 7th), civil police in Rio de Janeiro arrested the director of hospitality company Match, who have an exclusive partnership with FIFA, on suspicion of involvement in an international ticket-scalping network. British executive Ray Whelan is the twelfth person arrested on suspicion of involvement in the network.
The group have reportedly operated at four World Cups and could render R$200 million per tournament, selling up to 1,000 tickets per game. Whelan is believed to be the head of the gang, and those arrested could face charges of money laundering and criminal association, as well as illegally selling tickets.
The arrest fosters suspicion, voiced publicly by police and prosecutors investigating the case, of illicit involvement by FIFA and partners in the scheme. Match have an exclusive relationship with FIFA and are allowed to sell hospitality tickets.
The three-month police investigation showed that members of the network – most notably Franco-Algerian Lamine Fofana, among those arrested – "had free access to restricted FIFA areas", allowing them large quantities of tickets, according to the principal officer in the investigation, Fábio Barucke.
Match is in fact controlled by Infront, whose shareholder Phillip Blatter is nephew of FIFA president Sepp Blatter. Adding to suspicions of internal involvement was the recovery of tickets in the name of Humberto Mario Grondona, son of FIFA vice-president Julio Grondona. He admitted to selling extra tickets to friends "in good faith" but denied involvement in scalping.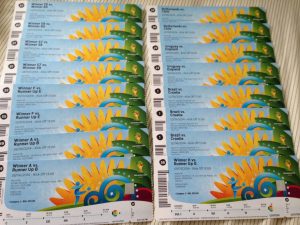 "[The involvement of someone] from FIFA is almost certain," said prosecutor Marcos Kac. FIFA responded that they were looking into the matter and anyone caught selling tickets would be dealt with. "FIFA is very tough. If someone violated a rule, they will be punished, but we cannot jump to conclusions," responded spokesperson Delia Fischer.
Further embarrassment for FIFA and the Brazilian delegation comes through evidence potentially implicating the Brazilian Seleção (national team) in the scheme. Each member of the delegation – including players – receives as many as fifty tickets per game, which may have been passed onto the ticket-scalping network. According to Agência Brasil, police may speak to a relative of a current member in the Seleção, former players, and even former manager Dunga.
In a recording made by civil police and featured in Sunday's edition of Fantástico, Antônio Henrique de Paula Jorge – among those arrested – spoke to an unidentified man who claimed to have access to the delegation's tickets.
"This person said he had easy access to the Brazilian Seleção, through knowing a player, and would go to Granja [their training base] to get the courtesy tickets which the Seleção had received from FIFA or the CBF," explained Barucke. "These tickets would be collected and given to the gang to sell to the public."
Much of the attention has focused on the figure of Lamine Fofana, whose recovered notebook demonstrated the extent of the network's operation. His notes revealed having sold at least 112 VIP tickets for a total of R$912,000, and that he had 25 tickets for next Sunday's final, each one costing R$51,000.