By Lise Alves, Senior Contributing Reporter
SÃO PAULO, BRAZIL – Public health clinics across Brazil start administering flu vaccines on Monday, May 4th, during the government's annual Flu Vaccination Campaign. According to the Ministry of Health the government hopes to immunize at least 39.7 million people until the campaign ends at May 22nd, reaching eighty percent of the population at risk of the flu.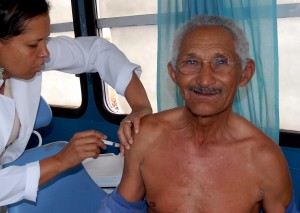 "Our objective with the Vaccination Campaign is to reduce the complications caused by the flu to a minimum. The vaccination offered by the SUS [Public Health System] is very safe and it is fundamental to avoid hospitalization, in addition to reducing the number of deaths by 75 percent," said Health Minister, Arthur Chioro, last week when announcing the beginning of the campaign.
The vaccine this year will include three sub-types of the flu virus, including H1N1, which in 2009 killed dozens in Brazil. The Health Ministry announced that it had made available more than 54 million doses of the vaccine at 65,000 health clinics to be given for free.
The recipients will be those over sixty years old, children between six months and five years old, pregnant women, health professionals, those with chronic respiratory diseases, prisoners along with those working in the correctional system and the indigenous population. Studies conducted by the Ministry show that the annual flu vaccination may reduce the number of hospitalizations due to pneumonia each year by between 32 to 45 percent.
According to Carla Domingues, coordinator for the National Immunization Program at the Ministry of Health, in 2014 86.7 percent of the target population was immunized.
"It is very important that this year we are also able to reach the at least eighty percent of each group at risk," Domingues said during the press conference.